Tropical Cyclone Vernon 2022
Last Modified: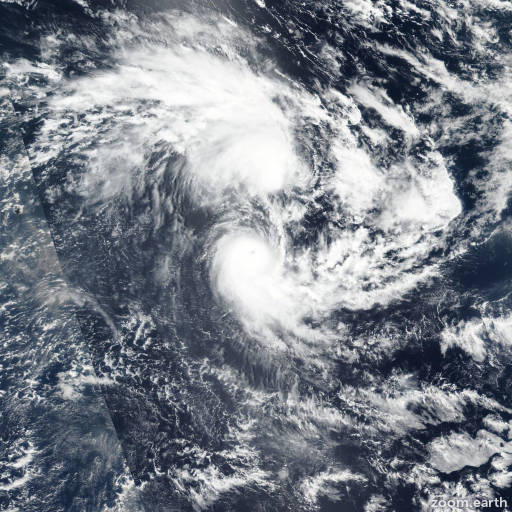 Vernon
Satellite images, weather maps and tracks of Intense Tropical Cyclone Vernon 2022, February 24 - March 3. Max wind speed 215km/h.
Vernon is located 270 km southeast of Diego Garcia, and has moved southward at 17 km/h (9 knots) over the past 6 hours.
Vernon will continue tracking south-southwest for the next 1 to 2 days, along the northwestern edge of the steering ridge to the southeast in the direction of a weakness in the ridge induced by the approach of a mid-latitude trough.
The system will turn more southward in 2 days. No significant environmental changes are expected in the first 36 hours of the forecast, with supportive sea surface temperatures and robust outflow competing with persistent northerly shear and dry air encroachment from the north.
The system is forecast to briefly intensity to 100 km/h (55 knots) in the next 12 hours, but then begin a steady weakening trend as the shear increases and sea surface temperatures begin to decrease in 2 days while the system begins subtropical transition in 60 hours.
Vernon will complete transition into a strong gale-force subtropical low in 3 days. Forecast guidance are in overall very good agreement through the forecast period, with less confidence by after 2 days with a gradual spread to 333 km in 3 days.
The track lies on the western side of the consensus with high confidence. The intensity forecast lies near the consensus mean through the forecast period.
Intensity guidance is also in good agreement, with a peak of 55 knot peak in 12 hours followed by a steady weakening trend thereafter.
Maximum significant wave height is 7.3 meters (24 feet).
Information provided by the Joint Typhoon Warning Center (JTWC).