Tropical Depression Trases (Ester) 2022
Last Modified: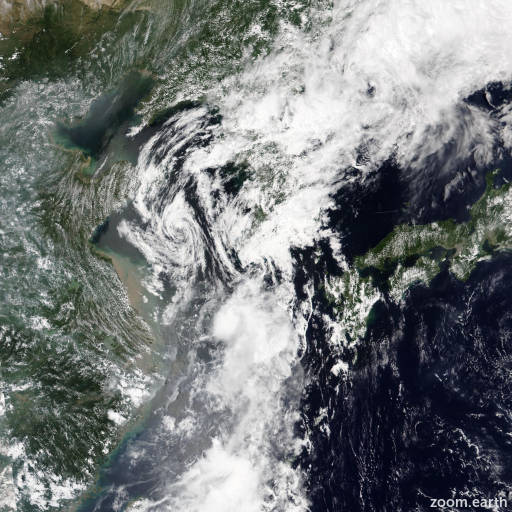 Trases (Ester)
Satellite images, weather maps and tracks of Tropical Depression Trases 2022, July 30 - August 1. Max wind speed 55km/h.
Trases (Philippine name Ester) is located 369 km south of Kunsan Air Base, and has moved northward at 37 km/h (20 knots) over the past 6 hours.
Trases is undergoing binary interaction with Songda, which is located about 352 km west-northwest of Trases's 01/02:00 UTC position.
The two systems are equal in intensity and are fairly compact systems, however, Songda has maintained a stronger, more dominant pressure field. Therefore, Trases is forecast to track along the southeastern and eastern edge of Songda over the next 12 hours then turn poleward as it gets absorbed and dissipates within the eastern edge of Songda.
Interaction with land will also serve to significantly weaken the system as it tracks across cheju-do and southwest South Korea.
Due to these factaors, Trases is forecast to weaken quickly with dissipation in the next 12 to 24 hours. Despite the complex interaction with Songda, the numerical guidance is in fair agreement indicating a north-northwestward to northward track over the next 24 hours.
The 31/18:00 UTC ECMWF ensemble (EPS) also shows a similar spread of solutions, therefore, there is medium overall confidence in the JTWC track forecast.
The intensity forecast is fairly straight-forward with peak intensity limited, therefore, there is high confidence in the JTWC intensity forecast.
Maximum significant wave height is 3 meters (10 feet).
Information provided by the Joint Typhoon Warning Center (JTWC).