Typhoon Tokage 2022
Last Modified: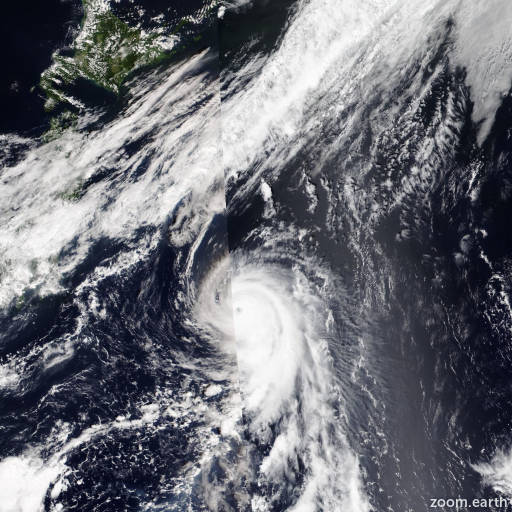 Tokage
Satellite images, weather maps and tracks of Typhoon Tokage 2022, August 21 - 26. Max wind speed 170km/h.
Tokage is located 982 km east of Misawa, Japan, and has moved northeastward at 41 km/h (22 knots) over the past 6 hours.
Tokage will continue to track rapidly northeastward through the short duration of the forecast period, along the increasingly tight gradient between the subtropical ridge to the south and a remnant frontal boundary sitting to the north.
While currently assessed as a hybrid tropical-subtropical system, it is expected to quickly transition to a fully extratropical, gale-force low as it takes on increasingly low level temperature advection, is smothered by dry air in the mid-levels, is sheared apart by rapidly increasing wind shear and embeds under the aforementioned 200 hPa jet streak and 500 hPa trough.
Numerical track guidance is in very good agreement through the forecast period, with minimal along and cross-track spread in the consensus members.
The JTWC forecast lies right down the middle of the model envelope with high confidence. Intensity guidance is in overall good agreement, with GFS and HWRF being slightly more aggressive than the Decay-SHIPS guidance which drops the system to just 35 km/h (20 knots) in 24 hours.
With the upper-level dynamics currently in play, the JTWC forecast calls for slow weakening, and lies on the higher end of the guidance with high confidence.
Maximum significant wave height is 8.5 meters (28 feet).
Information provided by the Joint Typhoon Warning Center (JTWC).