Tropical Cyclone Tiffany 2022
Last Modified: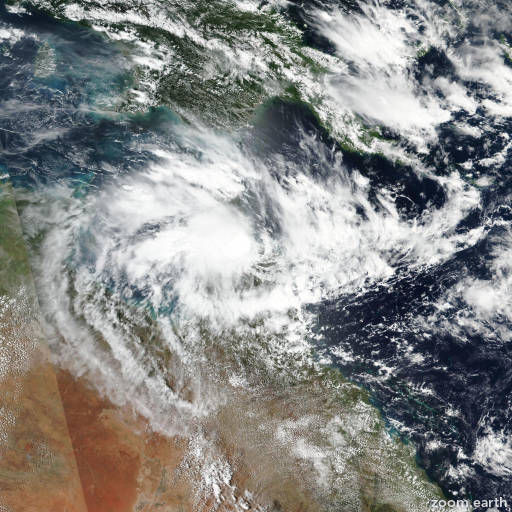 Tiffany
Satellite images, weather maps and tracks of Category 2 Tropical Cyclone Tiffany 2022, January 5 - 15. Max wind speed 120km/h.
Tiffany is located 544 km east-southeast of Darwin, Australia, and has moved westward at 26 km/h (14 knots) over the past 6 hours.
Satellite imagery and a composite radar loop from ABOM show the system has made landfall over Arnhem Land, northern Australia. The initial position is placed with high confidence based on triangulation from multiple nearby surface observations.
Tiffany is expected to rapidly decay due to frictional effects and increasing wind shear and dissipate in 24 hours. The remnants are expected to continue westward then west-southwestward just south of bonaparte gulf and in 2 days will be next to wyndham.
Forecast guidance are in good agreement with this forecast track that is laid close to consensus with medium confidence. NVGM and ECMF are on the right margin of the model envelope tracking the vortex just offshore into the gulf in around 30 hours before driving it back inland in 2 days.
This is the final warning on this system by JTWC. The system will be closely monitored for signs of regeneration or return into water.
Information provided by the Joint Typhoon Warning Center (JTWC).