Typhoon Surigae (Bising) 2021
Last Modified: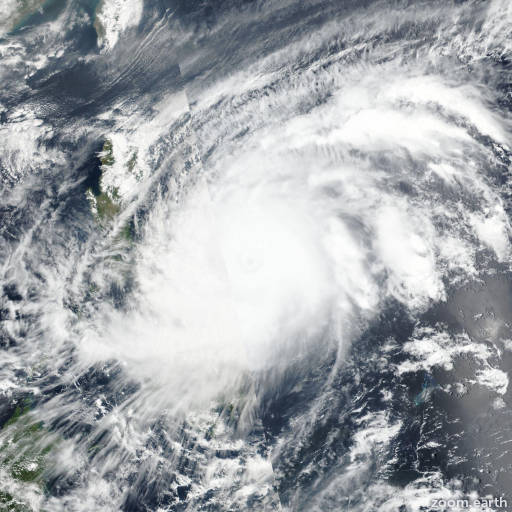 Surigae (Bising)
LIVE satellite images, updates and tracking maps of Typhoon Surigae 2021. Current wind speed 165km/h. Max 305km/h.
Typhoon Surigae (Philippine name Bising) is located 735 km (397 nautical miles) south-southwest of kadena Air Base, and has moved north-northeastward at 13 km/h (7 knots) over the past 6 hours.
The current position is based on recent analyst satellite fixes from PGTW, KNES and RJTD and a low-level center feature evident in a AMSR2 microwave imagery.
Surigae has moved north-northeastward over the past 6 hours while rounding the axis of a subtropical steering ridge situated to the east. Deep convection around the center has become increasingly fragmented, but a 63 km (34 nautical miles) eye remains clearly evident in infrared satellite imagery.
Analysis shows moderate wind shear (15-20 knots), marginal sea surface temperatures (26-27°C) and favorably strong eastward and poleward outflow aloft.
Surigae will continue to turn eastward around the subtropical steering ridge axis over the next 24 to 36 hours. Steady weakening is expected under the influence of increasing westerly wind shear and marginal sea surface temperatures.
Storm motion is expected to slow as a shortwave trough passes to the north of the system in the next 24 to 36 hours. Thereafter, Surigae will dip east-southeastward as the steering ridge reorients to the south of the system.
After 2 days, an amplifying mid-latitude trough will begin to interact with Surigae and, for the rest of the forecast period, the system will become embedded within the flow associated with this trough.
Strong wind shear and passage over cooler water will lead to steady weakening in the medium term. However, baroclinic support ahead of the aforementioned mid-latitude trough is expected to sustain the system near storm force (50 knots) as the system undergoes extratropical transition.
Forecast guidance is in good agreement over the next 3 days, lending high confidence to the initial portion of the official track forecast. In the extended period, 02S is expected to accelerate northeastward and complete extratropical transition as it continues to merge with a mid-latitude trough.
As discussed above, the system will likely maintain gale to storm force wind speeds as it completes extratropical transition with baroclinic support.
Track guidance diverges in the extended range as the GFS and GEFS ensemble mean show an outlier scenario of a weakened system remaining separate from the mid-latitude westerly flow pattern, while the other available guidance shows differing rates of pronounced acceleration into the mid-latitude westerlies.
The current forecast favors the majority depiction of rapid acceleration and lies close to both the multi-model consensus and previous JTWC track forecasts with medium confidence.
Information provided by the Joint Typhoon Warning Center (JTWC).