Super Typhoon Surigae (Bising) 2021
Last Modified: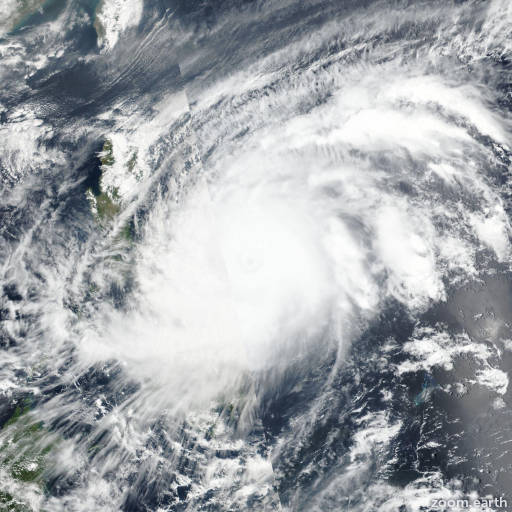 Surigae (Bising)
Satellite images, weather maps and tracks of Super Typhoon Surigae 2021, April 11 - 25. Max wind speed 315km/h.
Subtropical Storm Surigae (Philippine name Bising) is located 811 km west-southwest of Iwo To, Japan, and has moved east-southeastward at 22 km/h (12 knots) over the past 6 hours.
The system remains assessed as a Subtropical Storm but is expected to rapidly transition to an extra-tropical low within the next 12 to 18 hours.
Infrared imagery continues to show a highly asymmetric, frontal structure with extensive dry air punching into the western and southern edges.
The system is located under a major upper-level trough with strong wind shear and is embedded within a strong baroclinic zone as evidenced by expansive cold-air stratocumulus in satellite imagery.
The initial intensity remains assessed at 75 km/h (40 knots) based on recent ASCAT data as well as a Sentinel-1B SAR pass, which shows maximum winds of 75-90 km/h (40-48 knots).
Surigae is forecast to track eastward to east-northeastward while undergoing extra-tropical transition (ETT). Surigae will complete ETT as a minor short-wave trough, currently located south of kyushu, digs southeastward over the next 12 to 18 hours providing upper-level support.
The system may intensify slightly as an extra-tropical low toward the end of the forecast period and will remain a large, gale-force low as it transits south of Japan.
Forecast guidance remains in tight agreement lending high confidence to the JTWC forecast track.
This is the final warning on this system by JTWC. The system will be closely monitored for signs of regeneration.
Maximum significant wave height is 6.7 meters (22 feet).
Information provided by the Joint Typhoon Warning Center (JTWC).