Tropical Storm Sonca 2022
Last Modified: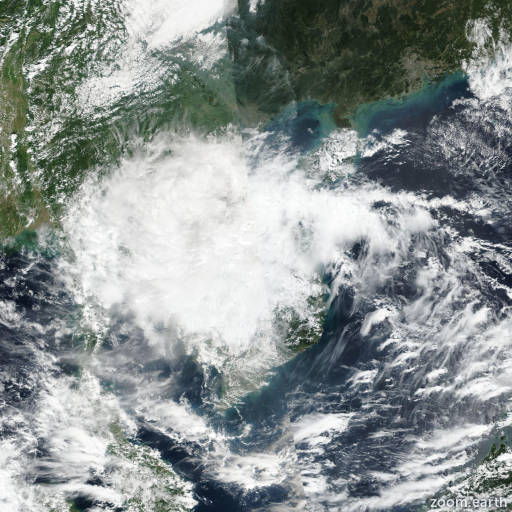 Sonca
Satellite images, weather maps and tracks of Tropical Storm Sonca 2022, October 12 - 15. Max wind speed 65km/h.
Sonca is located 100 km southeast of Da Nang, Vietnam, and has moved west-northwestward at 31 km/h (17 knots) over the past 6 hours.
Satellite and radar analysis shows that Sonca has made landfall southeast of Da Nang, Vietnam. Infrared imagery shows an area of flaring convection covering eastern Thailand, southern Laos, and central Vietnam west of a low-level circulation center (LLCC). This displacement is caused by strong (45-50 knots) upper level wind flow from the east-northeast.
Radar shows the LLCC just east of the Vietnam shore with 55 km/h (30 knots) wind barbs in the northern edge and 45 km/h (25 knots) wind barbs in the southern edge.
The observation from Da Nang reported 35 km/h (19 knots) with gusts of 55 km/h (31 knots). Sonca will weaken in intensity as it transits west-northwestward over the mountainous terrain of Vietnam and Laos.
This is the final warning on this system by JTWC. The system will be closely monitored for signs of regeneration.
Maximum significant wave height is 3 meters (10 feet).
Information provided by the Joint Typhoon Warning Center (JTWC).