Major Hurricane Simon 2014
Last Modified: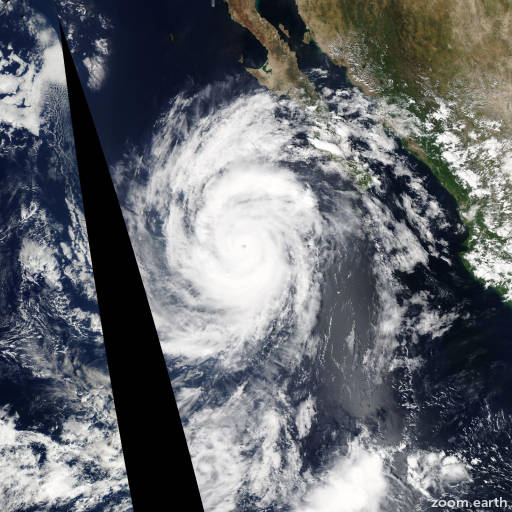 Simon
Satellite images, weather maps and tracks of Category 4 Major Hurricane Simon 2014, September 30 - October 9. Max wind speed 130mph.
Simon has been devoid of organized deep convection for more than 12 hours. Strong shear and an unfavorable thermodynamic environment should prevent any significant redevelopment of convection, and the system is being declared a post-tropical remnant low at this time. Based on earlier ASCAT data, the initial wind speed remains 30 knots for this advisory. The low should weaken during the next day or so, and the global models suggest that the cyclone will become an open trough within 24 to 48 hours as it interacts with land.
The low has turned northeastward this evening with an initial motion estimate of 040/6 knots. A northeastward motion with some increase in forward speed is expected until dissipation occurs. This will take the cyclone, or its remnant, across north-central Baja California and into Mainland Mexico.
Even if Simon or its remnant surface circulation does not make it across the rugged terrain of the Baja California peninsula, moisture associated with this system is expected to spread across the northern Baja California peninsula, northwestern Mexico, and into the U.S. Desert Southwest, which could trigger heavy rains in those regions during the next couple of days. Please refer to statements from your local weather office for information on hazards specific to your area.
This is the last advisory issued by the National Hurricane Center on Simon. For additional information on the remnant low please see High Seas Forecasts issued by the National Weather Service...under AWIPS header NFDHSFEPI and WMO header FZPN01 KWBC.
Information provided by NHC.