Major Hurricane Seymour 2016
Last Modified: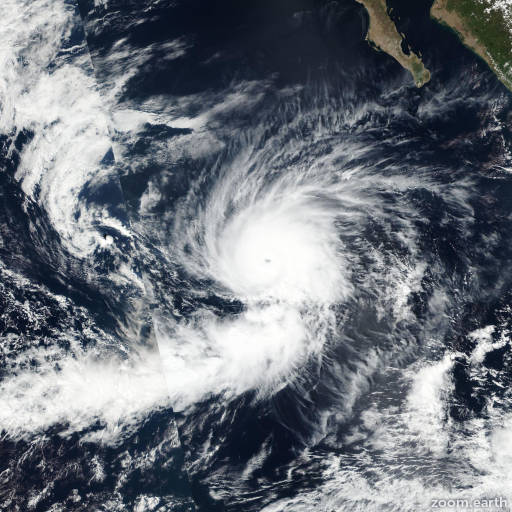 Seymour
Satellite images, weather maps and tracks of Category 4 Major Hurricane Seymour 2016, October 22 - 30. Max wind speed 150mph.
The cyclone has lacked organized deep convection within 60-100 nautical miles of its center for over 12 hours, and no longer qualifies as a tropical cyclone. Since Seymour has become a post-tropical remnant low, advisories are being discontinued. Subjective Dvorak classifications from TAFB and SAB along with scatterometer data indicated an intensity of near 35 knots at 06:00 UTC. Assuming some additional spindown of the cyclone since then, the advisory intensity is set at 30 knots. The low will be moving through an extremely hostile environment of southwesterly shear of 40-45 knots and SSTs cooler than 23 deg C during the next couple of days. These environmental factors should cause the remnant low to dissipate in a couple of days. This is also shown by the global model predictions.
The low has turned toward a slightly east of northward heading, and the initial motion is about 010/7 knots. A north-northeastward motion, ahead of an approaching frontal system, is expected over the next day or so. The official track forecast is adjusted a little to the left of the previous one, toward the latest model consensus.
For additional information on the remnant low please see High Seas Forecasts issued by the National Weather Service, under AWIPS header NFDHSFEPI, WMO header FZPN02 KWBC, and on the web at http://www.opc.ncep.noaa.gov/shtml/NFDHSFEPI.shtml.
Information provided by NHC.