Tropical Cyclone Seroja 2021
Last Modified: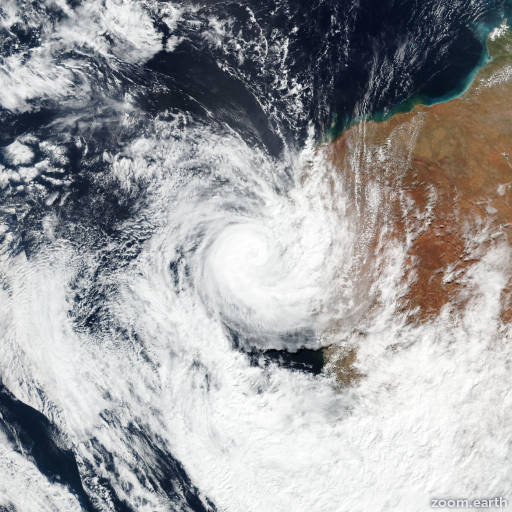 Seroja
Satellite images, weather maps and tracks of Category 3 Tropical Cyclone Seroja 2021, April 3 - 12. Max wind speed 140km/h.
Seroja is located 667 km (360 nautical miles) south of Learmonth, Australia, and has moved southeastward at 57 km/h (31 knots) over the past 6 hours.
Infrared imagery shows a well defined 19 km (10 nautical miles) eye feature just crossing the shoreline near Port Gregory, Australia at the 11/12:00 UTC hour.
Surface observations from the region, the infrared imagery eye feature and a well-defined radar eye combined to lend high confidence to the initial position.
Peak wind gusts of 120 km/h (65 knots) at the Geraldton Airport provides additional support to the initial intensity. Seroja is being steered rapidly towards the southeast along the gradient between a deep-layer subtropical ridge to the northeast and an approaching mid-latitude trough to the southwest.
As the system races southeast over inland Australia it is expected to rapidly weaken due to increasing shear and terrain interaction. The simultaneous development of dry air entrainment and thermal advection will signal the commencement of extra-tropical transition (ETT) within the next 6 to 12 hours, with full transition expected in 24 hours, likely by 18 hours, along the coast of southern Australia.
Forecast models are in very good agreement, lending high confidence to the JTWC forecast track.
This is the final warning on this system by JTWC. The system will be closely monitored for signs of regeneration.
Maximum significant wave height is 8.5 meters (28 feet).
Information provided by the Joint Typhoon Warning Center (JTWC).