Major Hurricane Sandra 2015
Last Modified: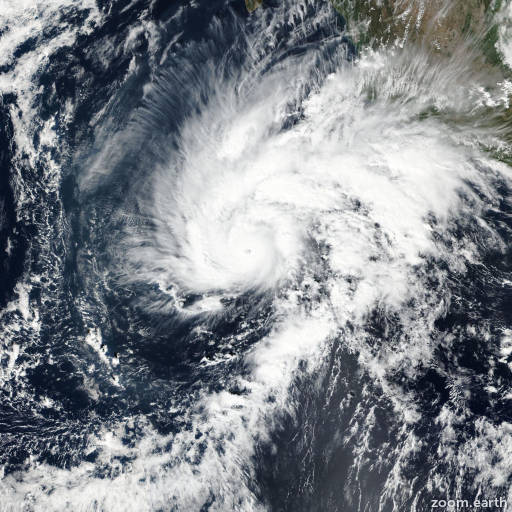 Sandra
Satellite images, weather maps and tracks of Category 4 Major Hurricane Sandra 2015, November 23 - 29. Max wind speed 150mph.
Sandra has been devoid of organized deep convection since about 00:00 UTC, a little after the time that the low- and mid-level circulations separated from one another. With west-southwesterly vertical wind shear of nearly 50 knots and forecast to increase further, regeneration is unlikely. Sandra is therefore being declared a post-tropical remnant low, and this is the last advisory on this system. Some spin-down of the vortex is assumed since the overnight ASCAT pass that showed tropical-storm-force winds, and the initial intensity estimate is lowered to 30 knots. Global models show the remnant low of Sandra weakening further and dissipating in about 24 hours near the coast of Sinaloa.
The initial motion of the post-tropical cyclone is toward the north or 010/06. The remnant low should turn north-northeastward around a low-level ridge located near the south-central coast of Mexico, and this motion should continue until dissipation. The new track forecast is adjusted slightly to the right of the previous one toward the multi-model consensus.
Moisture associated with the remnants of Sandra's mid- and upper-level circulations could still produce heavy rains over portions of central Mexico during the next day or so, potentially causing localized flash flooding and mud slides. The remnant moisture could also contribute to the significant heavy rain event already occurring over the south-central United States. For more information, please see products from the NOAA Weather Prediction Center and local NWS Weather Forecast Offices.
For additional information on the remnant low, please see High Seas Forecasts issued by the National Weather Service, under AWIPS header NFDHSFEP1, WMO header FZPN01 KWBC, and on the web at http://www.opc.ncep.noaa.gov/shtml/NFDHSFEP1.shtml.
Information provided by NHC.