Major Hurricane Sam 2021
Last Modified: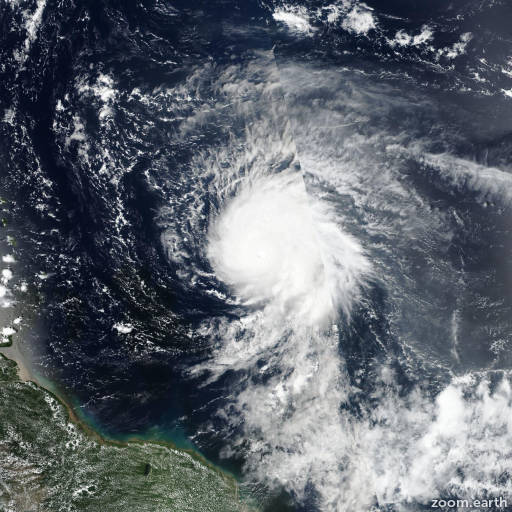 Sam
Satellite images, weather maps and tracks of Category 4 Major Hurricane Sam 2021, September 19 - October 7. Max wind speed 155mph.
Swells generated by Sam will impact the northern Leeward Islands, the Greater Antilles, portions of the Bahamas, and southeastern Newfoundland through midweek. These swells could cause life-threatening surf and rip current conditions. Please consult products from your local weather office.
Sam's low-level circulation center has become exposed on the south side of an east-to-west oriented cloud band containing cloud tops that have warmed to around -50°C. The cyclone's overall cloud pattern in satellite imagery resembles that of an occluded extratropical low pressure system, and surface analyses from the NOAA Ocean Prediction Center indicate that Sam's inner-core is now interacting with a frontal system. Furthermore, the system is located over sea-surface temperatures of around 14°C. Although the system likely still has a warm-core thermal structure in the mid- and upper-levels of the troposphere based on earlier 04/23:21 UTC AMSU-A/-B data, the low-level circulation now is comprised of an extensive field of cold-air stratocumulus clouds. Based on these data, Sam has made the transition to an extratropical cyclone over the far north Atlantic. The initial wind speed has been lowered to 80 mph (70 knots) based on a standard decay rate.
The initial motion estimate is northward or 010/20 knots. Extratropical-Sam has been moving north-northeastward at 40 mph (35 knots) since the previous advisory, but the latest global and regional models are all in very good agreement that the system will slow down significantly during the next 6-12 hours as it interacts with an approaching baroclinic mid- to upper-level trough/low. By late Tuesday, the post-tropical cyclone should turn east-northeastward, and then make a counter-clockwise loop southwest of Iceland on Wednesday. By Thursday, the large cyclone is expected to move east-northeastward or eastward and pass very near the southern coast of Iceland on days 4 and 5 as a weakening extratropical low pressure system. The new NHC track forecast is very similar to the previous advisory track, and lies close to the tightly packed simple- and corrected-consensus track models.
Extratropical-Sam is expected to maintain hurricane-force winds for the next 12-18 hours, followed by a slow weakening trend as the cyclone loses its baroclinic forcing. However, Post-Tropical-Sam is still expected to pass close to Iceland in the 96-120 hours period as an expansive low pressure system producing gale-force winds over a very large area.
This is the last advisory issued by the National Hurricane Center on Sam. Additional information on this system can be found in High Seas Forecasts issued by the National Weather Service, under AWIPS header NFDHSFAT1, WMO header FZNT01 KWBC, and online at https://ocean.weather.gov/shtml/NFDHSFAT1.php
Forecaster Stewart. Information provided by the National Hurricane Center (NHC).