Tropical Storm Rina 2017
Last Modified: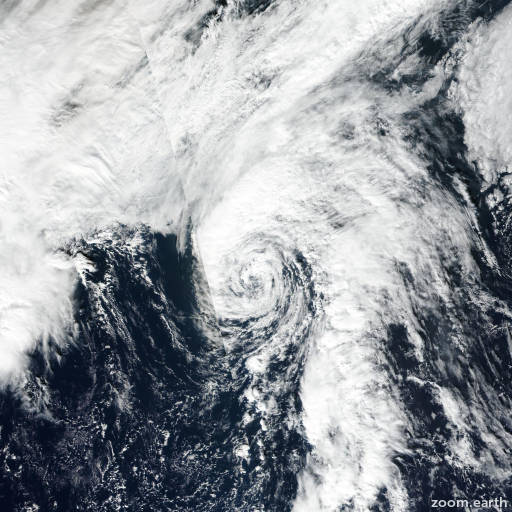 Rina
Satellite images, weather maps and tracks of Tropical Storm Rina 2017, November 4 - 9. Max wind speed 60mph.
Satellite images and surface data indicate that Rina has become a post-tropical cyclone. The system is embedded within low stratus clouds, with nippy air temperatures around 45 deg F about a degree to the northwest of the center. Interestingly, despite being over water temperatures around 9 deg C, instability aloft is still producing some elevated deep convection well northeast of the center, though this is not indicative of tropical cyclone status. The initial wind speed will stay at 40 knots, which is the maximum wind value from a pair of recently received scatterometer passes. The cyclone should move rather rapidly to the northeast and east-northeast over the next day before becoming elongated and dissipating west of Ireland. Little change in strength is anticipated, consistent with the global models.
This is the last advisory on Rina. Additional information on this system can be found in High Seas Forecasts issued by the National Weather Service, under AWIPS header NFDHSFAT1, WMO header FZNT01 KWBC, and available on the Web at http://ocean.weather.gov/shtml/NFDHSFAT1.shtml
Hopefully Rina will be the finale of the extremely active 2017 Atlantic hurricane season. However that might be wishful thinking since, of the top 10 most active hurricane seasons before this year, seven of them still had another tropical storm after today (November 9)'s date.
Information provided by NHC.