Zoom Earth
Near real-time satellite images
Explore daily satellite images
Historical satellite images
Date
Time
Type
Wind
Pressure
UTC

knots

km/h

mph

mb
Nov 18
12:00

L

23
Nov 18
00:00

L

23
Nov 17
18:00

D

35
1005
Nov 17
12:00

D

35
1005
Nov 17
06:00

D

35
1005
Nov 17
00:00

S

40
1004
Nov 16
18:00

S

46
1003
Nov 16
12:00

S

52
1001
Nov 16
06:00

S

52
1001
Nov 16
00:00

S

52
1001
Nov 15
18:00

S

52
1001
Nov 15
12:00

S

46
1004
Nov 15
06:00

S

40
1006
Nov 15
00:00

D

35
1007
Nov 14
18:00

D

29
1008
Nov 14
12:00

D

29
1008
Nov 14
06:00

L

29
1008
Nov 14
00:00

L

29
1008
Nov 13
18:00

L

29
1008
Nov 13
12:00

L

29
1008
Nov 13
06:00

L

29
1008
Storm Raymond 2019
Last Modified: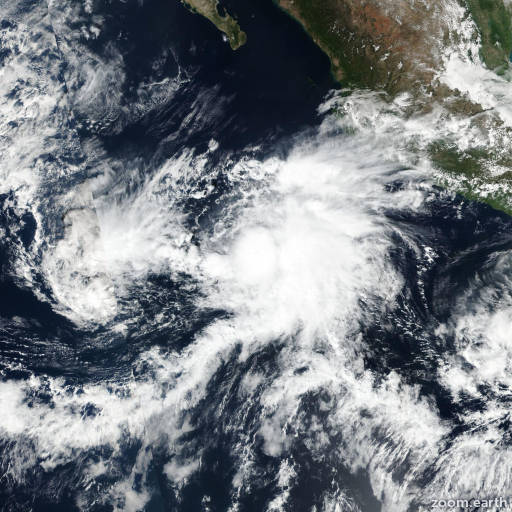 Raymond 2019
Satellite images and tracking maps of Tropical Storm Raymond 2019, November 13 - 18. Max wind speed 52mph.
Raymond has degenerated into a remnant low with 25-knot winds. Satellite images indicate that the circulation is elongated and that the thunderstorm activity is well removed from the area of minimum pressure due to very strong wind shear. In addition, observations from the Mexican Navy automatic station at Isla Socorro which is located near Raymond indicate that winds are between 15 and 20 knots.
The low is moving northward around 14 knots, but this motion is uncertain since the circulation is elongated and poorly defined. Raymond's remnants are expected to move northward and then north-northwestward and eventually become absorbed by a large developing trough west of the Baja California peninsula in about 24 to 36 hours.
The combination of the remnants of Raymond and the developing trough west of the peninsula will bring heavy rains into southern portions of the Baja California peninsula over the next day or two. These rains could cause life-threatening flash flooding.
This is the last NHC advisory on Raymond. For additional information about the remnant low, please see High Seas Forecasts issued by the National Weather Service under AWIPS header NFDHSFEPI, WMO header FZPN02 KWBC, and on the web at ocean.weather.gov/shtml/NFDHSFEPI.php
Information provided by NHC.