Zoom Earth
Near real-time satellite images
Explore daily satellite images
Historical satellite images
Date
Time
Type
Wind
Pressure
UTC

knots

km/h

mph

mb
Sep 25
18:00

D

23
1005
Sep 25
12:00

L

35
1004
Sep 25
06:00

S

40
1003
Sep 25
00:00

S

46
1002
Sep 24
18:00

S

52
1000
Sep 24
12:00

S

52
1000
Sep 24
06:00

S

46
1002
Sep 24
00:00

S

40
1003
Sep 23
18:00

S

40
1004
Sep 23
12:00

D

35
1005
Sep 23
06:00

L

29
1005
Sep 23
00:00

L

29
1005
Sep 22
18:00

L

29
1005
Sep 22
12:00

L

29
1005
Sep 22
06:00

L

29
1006
Sep 22
00:00

L

29
1007
Storm Pilar 2017
Last Modified: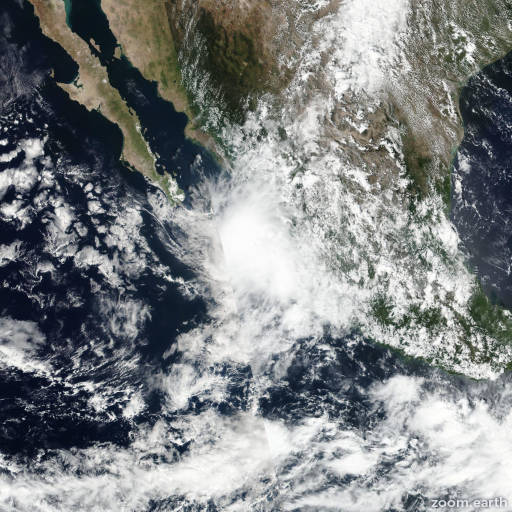 Pilar 2017
Satellite images and tracking maps of Tropical Storm Pilar 2017, September 22 - 25. Max wind speed 52mph.
GOES-16 visible imagery along with ASCAT scatterometer data indicate that Pilar has degenerated into a trough of low pressure extending from the southern tip of the Baja California peninsula and the coast of western Mexico. This is the last advisory issued on Pilar. The highest winds remaining in association with Pilar's remnants are 20 knots, as observed by the scatterometer.
Some deep convection remains in association with the remnants of Pilar along the coast of western Mexico and inland. The main hazard associated with the remnants of Pilar will be heavy rainfall, which could trigger life-threatening flash floods and mudslides over the states of northern Nayarit, the southern portion of Sinaloa, and the southwestern portion of Durango during the next day or so.
Information provided by NHC.