Tropical Storm Peter 2021
Last Modified: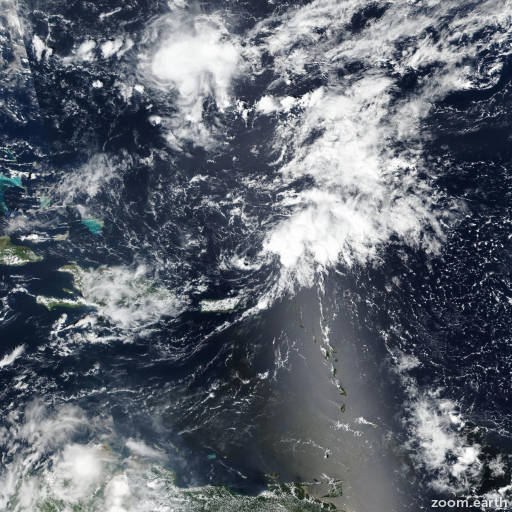 Peter
Satellite images, weather maps and tracks of Tropical Storm Peter 2021, September 13 - 29. Max wind speed 50mph.
Although a low-level swirl can still be seen in infrared satellite imagery, this feature has continued to lose definition. A recently arriving partial ASCAT-A overpass shows that the circulation has become more elongated, and Peter lacks a well-defined center. In addition, the system has not produced any organized deep convection in quite some time. The cloudiness and convective activity that has been occuring over the western Atlantic has been located along a trough axis well northeast of the decaying circulation center. As a result, Peter no longer meets the definition of a tropical cyclone, and this will be the final NHC advisory on this system. The initial intensity is set at 30 mph (25 knots) in accordance with the ASCAT data. The remnants of Peter are expected to remain within an area of strong upper-level westerly winds, and further weakening should occur over the next day or two.
The system has been moving slowly north-northwestward or 335/4 knots. A weakness in the low-level ridge should allow the remnants to turn northward tomorrow, and this general motion should continue through the end of the week.
This is the last NHC advisory on this system. Additional information on the remnants of Peter can be found in High Seas Forecasts issued by the National Weather Service, under AWIPS header NFDHSFAT1, WMO header FZNT01 KWBC, and online at https://ocean.weather.gov/shtml/NFDHSFAT1.php
Forecaster Brown. Information provided by the National Hurricane Center (NHC).