Tropical Storm Olga 2019
Last Modified: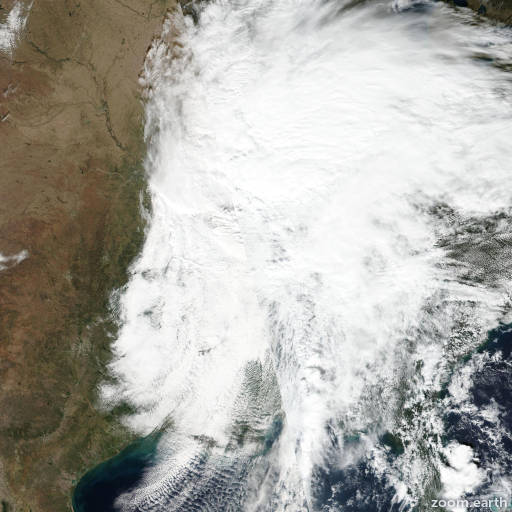 Olga
Satellite images, weather maps and tracks of Tropical Storm Olga 2019, October 25 - 27. Max wind speed 50mph.
Olga is now a post-tropical cyclone. Detailed information about hazards related to wind, rainfall, coastal flooding, and tornadoes can be found in products issued by local National Weather Service forecast offices, available at weather.gov
Earlier this evening, the last 2 passes through Olga made by an Air Force Reserve Hurricane Hunter aircraft showed that the cyclone becoming embedded within a cold front. Strong northwesterly flow was observed within 10 nautical miles northwest of Olga's center and a sharp temperature and dew point gradient was measured across the cyclone. It does not appear that Olga has separated from the front in any significant way since the plane left. In fact, recent surface observations suggest that either the front passes through the center of the cyclone or its circulation has become poorly defined. Based on all these data, Olga is now classified as post-tropical and this is the last NHC advisory.
Since Olga is entangled with the front, the winds and seas associated the front are now considered to be representative of the overall system. The intensity of the post-tropical cyclone is set at 45 knots based on SFMR winds of 48 knots and flight-level winds of 54 knots found by the plane behind the front. No substantial change in Olga's strength is anticipated before it reaches the coast Saturday morning, and the winds should decrease quickly thereafter. The post-tropical cyclone is forecast to move quickly up the Mississippi Valley on Saturday, before turning northeastward toward the Great Lakes late Saturday or early Sunday. Dissipation is anticipated before the end of the weekend.
Severe weather, including heavy rain, gusty winds, and isolated tornadoes will be the primary hazard associated with post-tropical Olga as it races northward. Coastal flooding is also possible tonight along portions of the Louisiana coast. For more information specific to your area, please see products from your local weather service office at weather.gov.
Information provided by NHC.