Tropical Storm Odette 2021
Last Modified: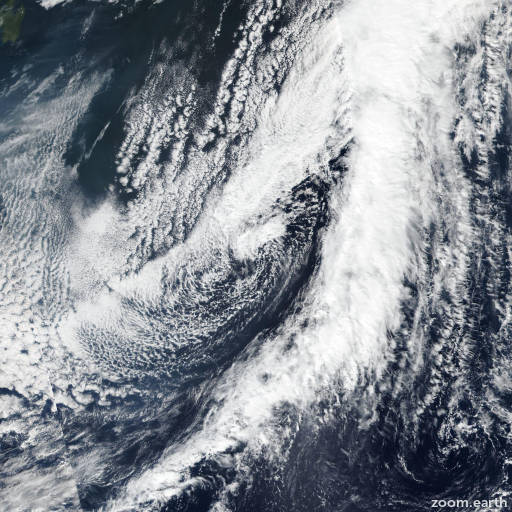 Odette
Satellite images, weather maps and tracks of Tropical Storm Odette 2021, September 14 - 26. Max wind speed 45mph.
Odette appears to have completed extratropical transition, perhaps a little earlier than the global models want to admit. The cyclone has developed a frontal structure similar to that of a bent back occlusion, with cold-air stratocumulus clouds advecting eastward to the south of the center behind the trailing cold front. In addition, the remaining deep convection is closer to the system's triple point than multiple-swirled center of circulation. The initial intensity is highly uncertain since all three ASCAT instruments completely missed the area where the strongest winds were likely to have been occurring, and it is held at 45 mph (40 knots) based on continuity.
The post-tropical cyclone has turned to the east-northeast and is moving a little faster — now with a motion of 060/16 knots. Additional acceleration is expected during the next 24 hours while Odette is embedded in the mid-latitude westerlies. After 24 hours, Odette is expected to detach from the prevailing flow, which will cause the cyclone to slow down and meander southeast of Newfoundland by days 3 through 5. The track guidance has shifted slightly southward on this cycle, and the NHC forecast follows that trend and continues to hedge toward a consensus of the GFS and ECMWF models.
Now that Odette is extratropical, global models indicate that baroclinic forcing should support strengthening and expanding of the gale-force wind field during the next couple of days. During this evolution, the strongest winds will also migrate to the northern and western side of the circulation. The frontal low is expected to occlude in about 3 days, coincident with the beginning of its meandering motion, and that occlusion process should cause a slow weakening of the winds through the end of the forecast period. One caveat is that some of the models have been hinting that the occluded low could redevelop deep convection near the center and transition to a tropical or subtropical cyclone, but there has not been enough consistency among the guidance to explicitly make that forecast. If the system's forecast track continues to shift southward toward warmer waters on days 3 through 5, that scenario could become a stronger possibility.
Post-Tropical Cyclone Odette is forecast to affect portions of Newfoundland with strong winds and heavy rainfall Sunday and Monday. Please refer to products from the Canadian Hurricane Centre for additional information on potential impacts in Newfoundland.
This is the last advisory issued by the National Hurricane Center on Odette. Additional information on this system can be found in High Seas Forecasts issued by the National Weather Service, under AWIPS header NFDHSFAT1, WMO header FZNT01 KWBC, and online at https://ocean.weather.gov/shtml/NFDHSFAT1.php
Forecaster Berg. Information provided by the National Hurricane Center (NHC).