Super Typhoon Noru (Karding) 2022
Last Modified: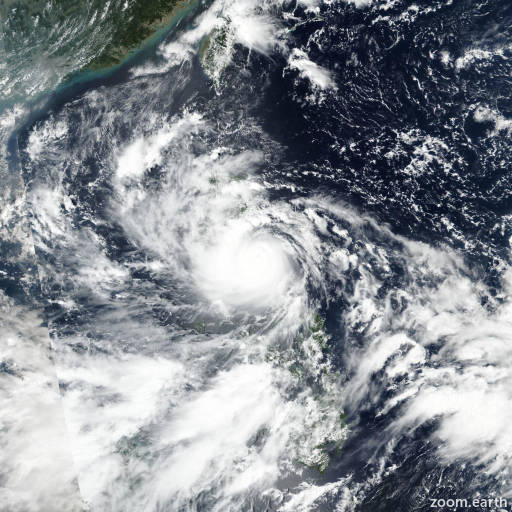 Noru (Karding)
Satellite images, weather maps and tracks of Super Typhoon Noru 2022, September 20 - 29. Max wind speed 255km/h.
Noru (Philippine name Karding) is located 74 km east of Da Nang, Vietnam, and has moved westward at 24 km/h (13 knots) over the past 6 hours.
Noru continues to rapidly weaken over the past 12 hours as environmental conditions are marginally unfavorable with strong wind shear (25-30 knots), offset by warm sea surface temperatures (29-30°C), and strong equatorward outflow.
Noru is forecasted to track westward through out the forecast period under the steering influence of a deep-layer subtropical ridge over southern China, before making landfall within the next 12 hours into central Vietnam near Da Nang, Vietnam.
After 12 hours, Noru will continue tracking westward within unfavorable environmental conditions which will result in the system continuing to decrease in intensity due to the influence of increasing wind shear, as well as terrain induced frictional effects of land interaction.
In 2 days, the system tracks further inland over southeast Asia with dissipation expected. Model guidance is in good agreement regarding the track forecast, with a gradual spread of only 144 km in 2 days. This lends high confidence in the JTWC track forecast throughout the forecast.
The intensity guidance is in good agreement that the system will rapidly weaken throughout the forecast period. However, the official JTWC forecast remains higher than the multi-model consensus guidance over the next 24 hours as it is unrealistic to see 130 km/h (70 knots) of weakening after landfall.
The overall confidence in the JTWC intensity forecast is medium due some uncertainty in the initial intensity along with how quickly the system weakens through out the forecast period.
Maximum significant wave height is 13.1 meters (43 feet).
Information provided by the Joint Typhoon Warning Center (JTWC).