Major Hurricane Nicole 2016
Last Modified: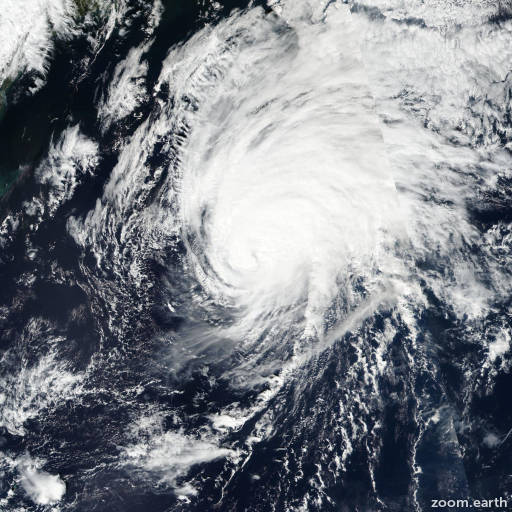 Nicole
Satellite images, weather maps and tracks of Category 4 Major Hurricane Nicole 2016, October 4 - 19. Max wind speed 140mph.
Nicole is finally losing its tropical cyclone characteristics as it merges with a frontal system over the cold waters of the North Atlantic. The circulation is becoming elongated with the remaining deep convection in a band well to the east of the center. The initial intensity is reduced to 55 knots based on a combination of satellite intensity estimates and earlier scatterometer data. The post-tropical cyclone is expected to complete extratropical transition in the next 12 hours, the it should continue as a vigorous extratropical storm through 36 hours before it is absorbed by another extratropical low.
The initial motion is 030/27. The cyclone should continue quickly north-northeastward on the east side on a deep layer trough over the Labrador Sea until the cyclone dissipates.
The main hazard associated with the post-tropical cyclone will continue to be the large area of high seas. Swells from the system will affect much of the North Atlantic basin during the next couple of days.
This is the last advisory on Nicole issued by the National Hurricane Center. Additional information on this system can be found in High Seas Forecasts issued by the National Weather Service, under AWIPS header NFDHSFAT1, WMO header FZNT01 KWBC, and available on the Web at http://www.opc.ncep.noaa.gov/shtml/NFDHSFAT1.shtml.
Information provided by NHC.