Tropical Storm Nestor 2019
Last Modified: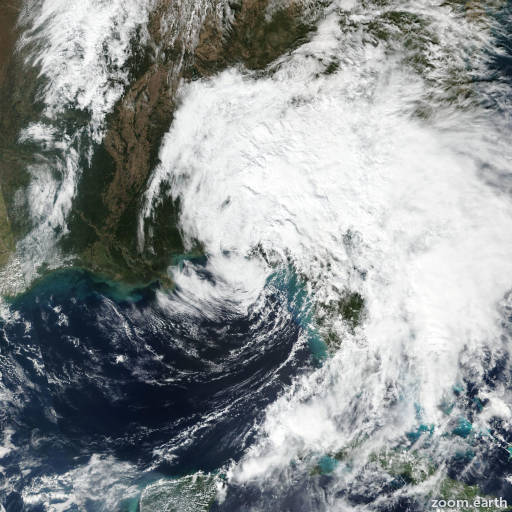 Nestor
Satellite images, weather maps and tracks of Tropical Storm Nestor 2019, October 17 - 21. Max wind speed 60mph.
Gale-force winds will gradually develop over the Atlantic waters and along the coasts northeastern Florida and Georgia tonight, and spread northward to the Carolinas on Sunday.
Isolated flash flooding is possible across the southeastern United States into Sunday.
Wind and coastal flooding hazards along the U.S. East Coast will be covered by non-tropical watches and warnings issued by local NWS offices, since the system is expected to lose its tropical characteristics after it moves inland along the Gulf Coast.
The center of Post-Tropical Cyclone Nestor made landfall along on St. Vincent Island, Florida, around 17:30 UTC. Since then, that center has moved inland over the Florida Panhandle between Apalachicola and Tallahassee. However, during the past hour, a new center appears to have formed farther west along a quasi-occluded frontal boundary. The earlier 40-45 knot winds over water have moved inland and weakened, and the initial intensity of 35 knots is based on a recent wind report of a sustained wind of 33 knots at 5-meters elevation from NOAA buoy 41008/Gray's Reef, Georgia.
The initial motion estimate is now northeastward or 055/20 knots. Nestor is forecast to move northeastward over the next 36 hours or so, followed by a turn toward the east once the cyclone reaches the North Carolina Outer Banks. On days 2 an 3, upper-level support is expected to weaken and lift out to the northeast, leaving a weakening extratropical cyclone Nestor behind. The cyclone should then dissipate or merge with another frontal system by 96 hours offshore of the U.S. east coast. The new official forecast track is similar to the previous advisory, and lies close to the center of the tightly packed model guidance envelope.
Some slight strengthening is expected on Sunday, mainly due to the robust circulation moving out over the warm waters of the far western Atlantic where less friction will affect the cyclone. The official intensity foreast closely follows an average of the 12:00 UTC GFS, UKMET, and ECMWF global model intensity forecasts.
This is the last advisory issued by the National Hurricane Center on Nestor. Additional information on this system can be found in High Seas Forecasts issued by the National Weather Service...under AWIPS header NFDHSFAT1 and WMO header FZNT01 KWBC.
Information provided by NHC.