Hurricane Nate 2017
Last Modified: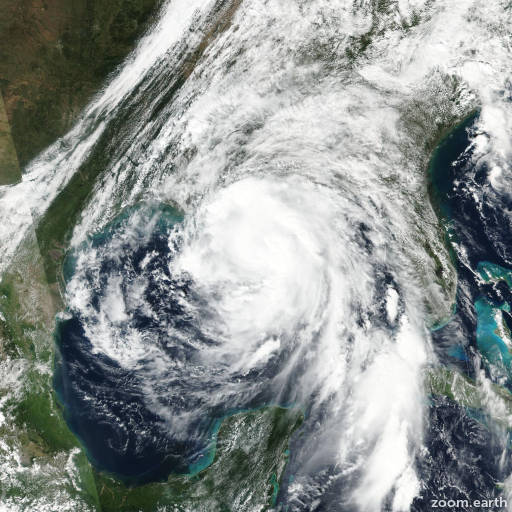 Nate
Satellite images, weather maps and tracks of Category 1 Hurricane Nate 2017, October 3 - 11. Max wind speed 90mph.
Nate will bring heavy rainfall of 3 to 6 inches with isolated totals of 10 inches east of the Mississippi River from the central Gulf Coast into the Deep South, eastern Tennessee Valley, and southern Appalachians through Monday, resulting in the potential for flash flooding in these areas.
Moisture from Nate interacting with a frontal zone will also bring 2 to 5 inches of rain with isolated totals of 7 inches across the Ohio Valley and central Appalachians Sunday and Monday, which will increase the risk for flash flooding across these locations.
Wind gusts to tropical storm force are expected over portions of the Florida Panhandle, Alabama, and Georgia through this afternoon (October 8).
Persistent onshore flow will keep water levels elevated along portions of the northern Gulf coast through today (October 8). See products issues by your local National Weather Service Forecast Office for additional information.
The center of Nate continues to move quickly north-northeastward over central Alabama. Moderate westerly shear has caused most of the deep convection and heavy rainfall to be displaced to the east and northeast of the center, and surface observations show that Nate has continued to rapidly weaken. Wind gusts to tropical-storm strength are still occurring over portions of Alabama and the Florida Panhandle, but there are no recent reports of sustained tropical-storm-force winds. Therefore, Nate is now a 30-knots tropical depression. Nate is expected to become a remnant low on Monday, and extratropical by Tuesday before it is absorbed by frontal system. The intensity foreast keeps the wind speed around 30 knots during the next 48 hours, since winds are expected to increase along the mid-Atlantic coast and southern New England coast on Monday when the post-tropical low approaches that area.
Nate should continue to move quickly north-northeastward to northeastward within the mid-latitude westerlies during the next 24 to 36 hours. The cyclone is forecast to turn east-northeastward by Tuesday before it merges with the frontal system.
This is the last NHC advisory on Nate. Heavy rainfall associated with Nate is expected to spread over the Tennessee Valley, the southern and central Appalachians, and the Ohio Valley during the next day or so. Future information on Nate system can be found in Public Advisories issued by the Weather Prediction Center beginning at 5 PM EDT, under AWIPS header TCPAT1, WMO header WTNT31 KWNH, and on the web at http://www.wpc.ncep.noaa.gov. These advisories will continue as long as Nate poses a flooding threat to the U.S.
Information provided by NHC.