Super Cyclonic Storm Mocha 2023
Last Modified: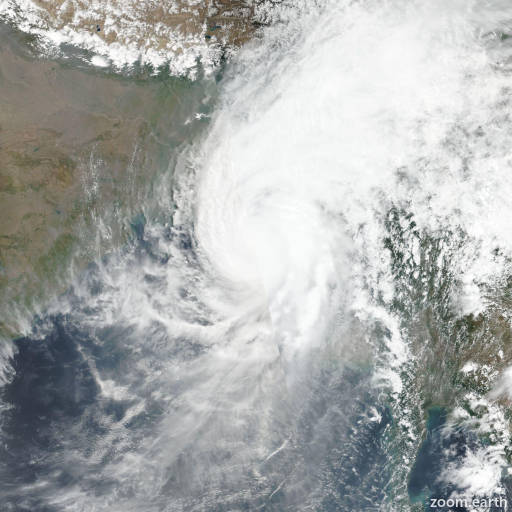 Mocha
Satellite images, weather maps and tracks of Super Cyclonic Storm Mocha 2023, May 7 - 15. Max wind speed 255km/h.
Mocha is located 211 km south-southeast of Cox's Bazar, and has moved north-northeastward at 20 km/h (11 knots) over the past 6 hours.
Mocha made landfall along the coast of northwest Myanmar, just north of Sittwe, at approximately and has now moved slowly inland.
A timely SSMIS microwave image showed a weak eye feature and lent high confidence to the initial position. The initial intensity is assessed with high confidence based on a deep micronet estimate of 200 km/h (108 knots) using the same microwave image, and an OPEN-AIIR estimate of 195 km/h (106 knots).
The system is forecast to continue tracking towards the northeast over the next 24 hours while rapidly weakening due to increasing wind shear and terrain interaction.
The system is forecast to dissipate as a tropical cyclone within the next 24 hours over far northern Myanmar.
This is the final warning on this system by JTWC. The system will be closely monitored for signs of regeneration. Minimum central pressure at 20/23:05 UTC1412z is 946 hPa.
Maximum significant wave height is 3.4 meters (11 feet).
Information provided by the Joint Typhoon Warning Center (JTWC).