Typhoon Merbok 2022
Last Modified: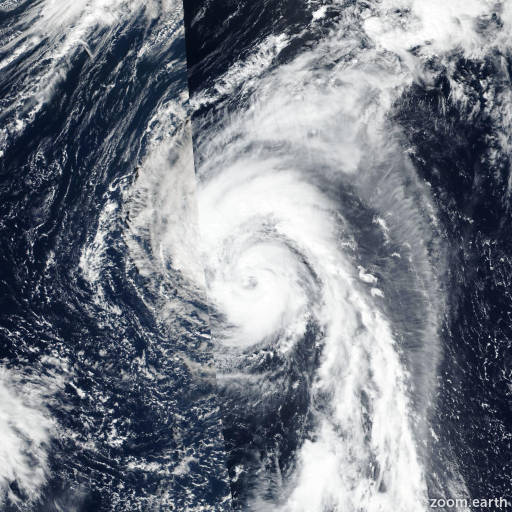 Merbok
Satellite images, weather maps and tracks of Typhoon Merbok 2022, September 10 - 16. Max wind speed 130km/h.
Merbok is located 1945 km north of Wake Island, and has moved north-northeastward at 61 km/h (33 knots) over the past 6 hours.
Satellite imagery and water vapor imagery show that while Merbok retains a well defined low-level circulation center (LLCC), the convective signature is beginning to elongate and erode as the system interacts with a front bearing down from the northwest and strong upper-level flow from the southwest.
The imagery also shows a strong upper-level low and accompanying surface feature, located 833 km to the northwest, moving rapidly southeastward towards a rendezvous with Merbok.
The system has started extratropical transition (ETT) as it has now moved under the right rear region of a strong 100-plus knot jet max and is quickly developing frontal characteristics due to strong low-level temperature advection.
The initial position is assessed with high confidence, while the initial intensity is assessed with medium confidence, in line with the subjective and objective fix data.
Even while the system has begun ETT, the very strong baroclinic forcing and presence of a sting jet in the lower levels, means that it will maintain intensity as a minimal typhoon, with gusts up to or exceeding 150 km/h (80 knots), particularly in the region of the sting jet, through at least the next 12 to 18 hours before finally beginning to weaken slightly as it approaches the western aleutians.
ETT will be very rapid in this scenario, as the system is screaming to the north at over 65 km/h (35 knots) and the system will transition to a hurricane force extratropical low, with a dramatically expanding wind field, within the next 12 hours.
This is the final warning on this system by JTWC. The system will be closely monitored for signs of regeneration.
Maximum significant wave height is 10.7 meters (35 feet).
Information provided by the Joint Typhoon Warning Center (JTWC).