Tropical Storm Megi (Agaton) 2022
Last Modified: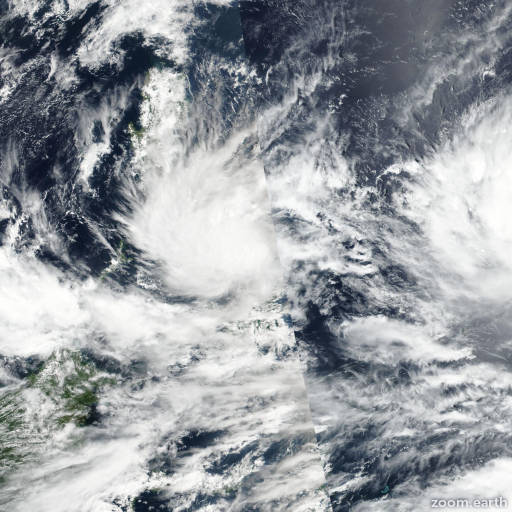 Megi (Agaton)
Satellite images, weather maps and tracks of Tropical Storm Megi 2022, April 7 - 12. Max wind speed 70km/h.
Megi (Philippine name Agaton) is located 489 km southeast of Manila, Philippines, and has moved northwestward at 15 km/h (8 knots) over the past 6 hours.
Megi will continue turning clockwise and then track east over the next 12 hours. The system will slightly intensify to 55 km/h (30 knots) over the warm waters just before moving back over the rugged terrain of Samar over the next 24 to 36 hours.
Megi will be drawn into the Philippine Sea as Malakas moves within 1000 km and has a slight binary interaction.
The remnants of Megi will accelerate east-northeastward as it is absorbed by the larger, stronger system. Forecast guidance are in overall agreement with maintaining the vortex over the Philippine islands for the next 36 hours before ejecting it east-northeastward toward Malakas. However, there remains a widespread in the initial 36-48hr trajectories.
Because of this, there is low confidence in the JTWC track forecast.
Maximum significant wave height is 2.4 meters (8 feet).
Information provided by the Joint Typhoon Warning Center (JTWC).