Typhoon Maysak (Julian) 2020
Last Modified: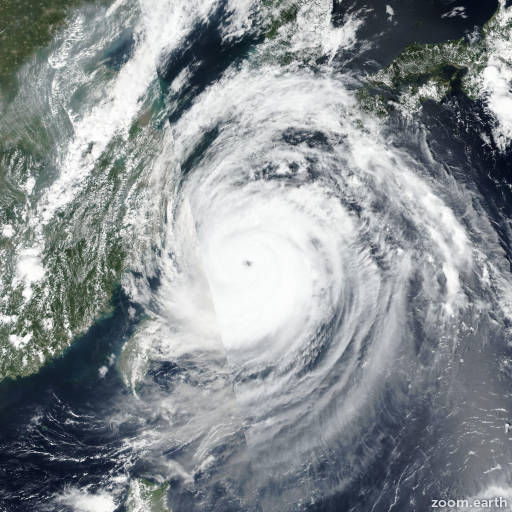 Maysak (Julian)
Satellite images, weather maps and tracks of Violent Typhoon Maysak 2020, August 26 - September 3. Max wind speed 220km/h.
Typhoon (TY) Maysak (Philippine name Julian), located approximately 24 nautical miles north-northwest of Busan, South Korea, has tracked north-northeastward at 26 knots over the past six hours.
Animated enhanced infrared satellite imagery and radar imagery indicate tightly-curved banding wrapping into a defined low-level circulation center, which supports the initial position with good confidence.
A 02/17:48 UTC AMSR2 89GHz microwave image depicts eroding core convection with expansive deep convection sheared to the northwest over the Korean Peninsula.
TY 10W made landfall at 02/17Z about 12 nautical miles west of Busan, which reported maximum sustained surface winds of 64 knots with gusts as high as 75 knots.
These wind reports support the initial intensity estimate of 75 knots, which is also bolstered by the RJTD Dvorak estimate of T4.0/5.0 (65/90 knots).
TY 10W is undergoing extra-tropical transition (ETT) and is embedded within the leading edge of a deep midlatitude shortwave trough.
The system is forecast to weaken rapidly and should complete ETT by hour 12 as it gains frontal characteristics.
Numerical model guidance is in good agreement and indicates a cyclonically shaped forecast track as the system occludes over manchuria.
This system is forecast to deepen as a storm-force extra-tropical low over North Korea and manchuria.
This is the final warning on this system by JTWC.
The system will be closely monitored for signs of regeneration.
Information provided by JTWC.