Major Hurricane Matthew 2016
Last Modified: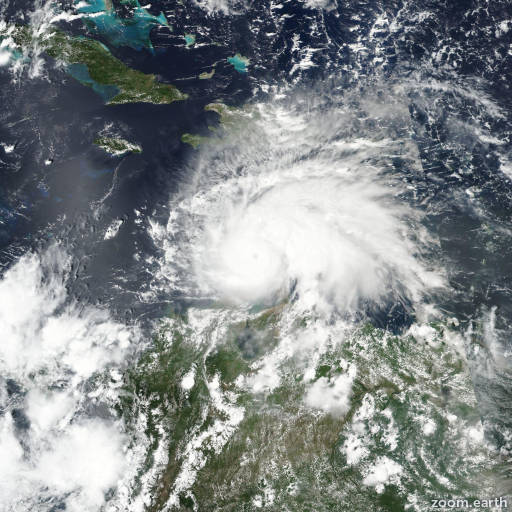 Matthew
Satellite images, weather maps and tracks of Category 5 Major Hurricane Matthew 2016, September 28 - October 10. Max wind speed 165mph.
Dropsonde data from a NASA Global Hawk mission into Matthew today (October 9) indicate that the post-tropical cyclone has not weakened. The observations continue to show a band of 60-65 knot winds to the southwest and west of the center. Matthew is moving east-northeastward at about 13 knots, and an east-northeastward motion within the mid-latitude westerlies should continue through tonight. Matthew is forecast by the global models to weaken and be absorbed within a frontal boundary on Monday, and the NHC forecast follows suit. It should be noted that a strong baroclinic low is expected to develop along the same frontal boundary near Nova Scotia on Monday.
Winds over the Outer Banks of North Carolina have gradually diminished this afternoon (October 9), and the tropical storm warning has been discontinued. Dangerously high water levels over portions of the Outer Banks will gradually subside overnight and early Monday. Based on these trends, this will be the last NHC advisory on Matthew. For additional information on the elevated water levels in the Outer Banks and the ongoing freshwater flooding in eastern North Carolina, see products and warnings issued by your local National Weather Service forecast office. Additional information on Matthew can also be found in High Seas Forecasts issued by the National Weather Service, under AWIPS header NFDHSFAT1 and WMO header FZNT01 KWBC.
Information provided by NHC.