Major Hurricane Laura 2020
Last Modified: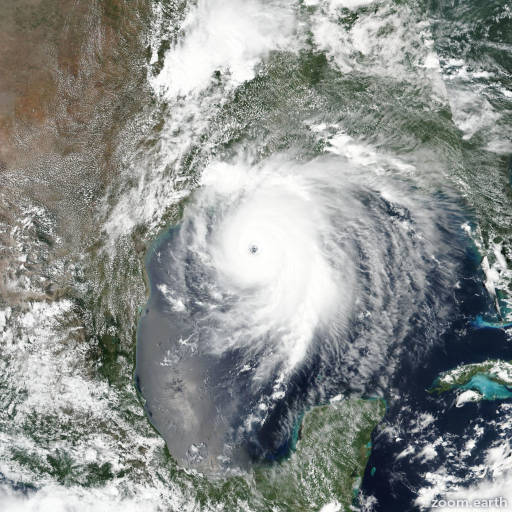 Laura
Satellite images, weather maps and tracks of Category 4 Major Hurricane Laura 2020, August 16 - 29. Max wind speed 150mph.
Additional rainfall will continue to lead to flash flooding along small streams, urban areas, roadways, and minor to moderate river flooding across portions of Louisiana, Mississippi and Arkansas. The heavy rainfall threat and flash and urban flooding potential will spread northeastward into the middle-Mississippi, lower Ohio and Tennessee Valleys, and Mid-Atlantic States Friday and Saturday.
A few tornadoes remain possible this evening across eastern Arkansas, western Tennessee, northern Mississippi, and the Missouri Bootheel. The risk for a few tornadoes is expected to redevelop Friday afternoon into the evening across parts of the Mid-South and Tennessee Valley regions.
Laura has continued to spin down after being over land for nearly a day. Surface observations no longer support tropical storm intensity, and therefore the system is being downgraded to a tropical depression. The cyclone should become a post-tropical low within a couple of days, and then transform into an extratropical cyclone while moving off the U.S. east coast. The official forecast shows some restrengthening in 2-4 days due to baroclinic processes. However, by the end of the forecast period, the system should be absorbed by a larger extratropical cyclone to the east of the Canadian Maritimes.
Laura continues to move north-northeastward or at about 015/13 knots. A turn toward the northeast and east-northeast with increasing forward speed is likely while the cyclone becomes embedded in the stronger westerly flow. The official track forecast follows the latest dynamical model consensus.
There is a continued threat of flooding from Laura for the next couple of days. This is the last NHC advisory on Laura. Future information on this system, including the rainfall threat, can be found in Public Advisories issued by the Weather Prediction Center beginning at 4 AM CDT, under AWIPS header TCPAT3, WMO header WTNT33 KWNH, and on the web at http://www.wpc.ncep.noaa.gov
Information provided by NHC.