Tropical Storm Kevin 2021
Last Modified: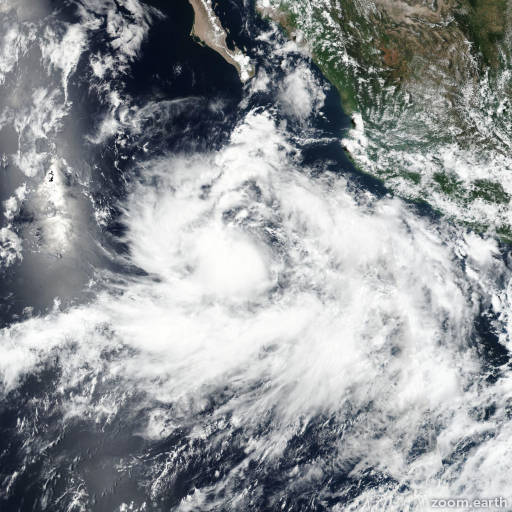 Kevin
Satellite images, weather maps and tracks of Tropical Storm Kevin 2021, August 5 - 15. Max wind speed 65mph.
A little bit of convection continues to persist about 200 nautical miles to the southwest of Kevin's center, but at that distance, it is not considered organized in relation to the cyclone. In fact, Kevin has had this structure for a good 18 hours or so, and it has therefore degenerated into a remnant low. Based on last evening's ASCAT passes, it is assumed that winds as high as 35 mph (30 knots) are still occurring within the circulation. However, the center will be moving over waters colder than 23°C very soon, so a gradual decrease in the winds is expected over the next couple of days. Dissipation of the remnant low in expected in about 3 days.
Kevin is moving toward the west-northwest, or 300/12 knots. The remnant low is expected to move along the southwestern periphery of a low- to mid-level ridge centered over the United States and Mexico, which should cause a west-northwestward or northwestward motion until dissipation. There is very little spread in the track guidance, and this last NHC track forecast is just an update of the previous one.
This is the last advisory being issued for Kevin. For additional information on the remnant low please see High Seas Forecasts issued by the National Weather Service under AWIPS header NFDHSFEPI and WMO header FZPN02 KWBC.
Forecaster Berg. Information provided by the National Hurricane Center (NHC).