Tropical Storm Kate 2021
Last Modified: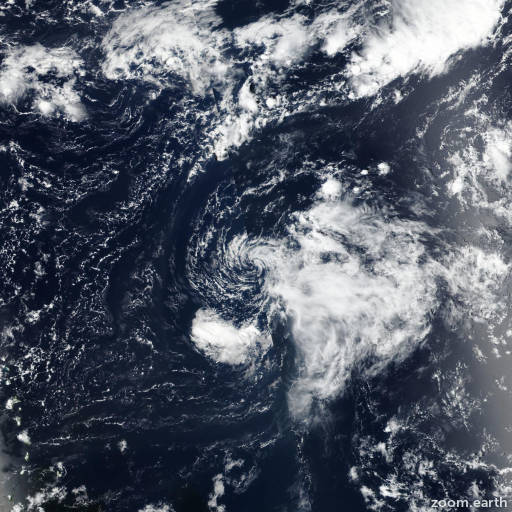 Kate
Satellite images, weather maps and tracks of Tropical Storm Kate 2021, August 22 - September 1. Max wind speed 45mph.
Kate's structure this afternoon (September 1) has deteriorated further. While occasional bursts of deep convection are still occuring to the south of a broad area of low-level cyclonic rotation, this activity lacks much organization. Recent visible satellite imagery also suggests that the low-level circulation is in the process of opening up into a trough, with little if any northerly cloud motions being observed to the west of the estimated center. In addition, I have been fortunate to receive some in-situ data from the NASA-DC8 aircraft that earlier preformed a research mission into Kate. Dropsonde data launched near the center indicated that the surface pressure was near 1012 mb, which is only a few millibars lower than the environmental ambient pressure. The dropsondes launched west of the center also failed to find any northerly surface winds. The combination of these data suggest that Kate's center is losing definition and no longer possesses a well-defined circulation. Therefore, the system no longer meets the definition of a tropical cyclone, and this will be the final advisory. Maximum sustained winds have also been lowered to 25-knots based on the surface winds from dropsonde data provided by the DC8 aircraft to the east of the center.
The remnants of Kate have accelerated to the north-northwest today (September 1) with the estimated motion at 340/13 knots, likely as the low-level vorticity maxima has become fully decoupled from the mid-level vortex located well to the south and east. This motion should continue until Kate completely fades away while embedded in the synoptic environment near a low-level subtropical ridge.
Forecaster Papin. Information provided by the National Hurricane Center (NHC).