Tropical Cyclone Kate 2015
Last Modified: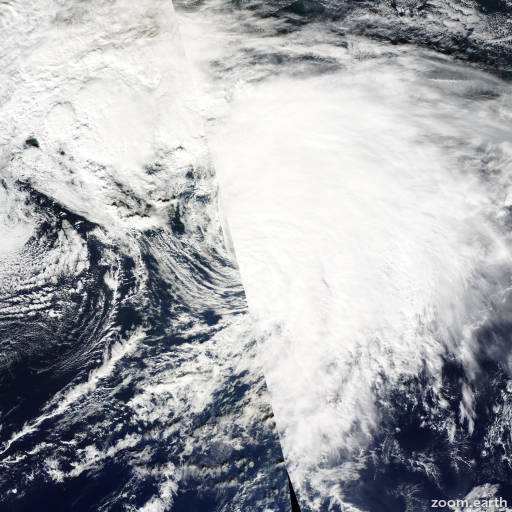 Kate
Satellite images, weather maps and tracks of Category 4 Tropical Cyclone Kate 2015, December 23 - January 3. Max wind speed 195km/h.
Satellite imagery indicates that Kate has merged with a baroclinic zone over the north Atlantic and is now an extratropical cyclone. The advisory intensity is set at 60 knots based on earlier ASCAT-A data and continuity from the previous advisory. The post-tropical cyclone should gradually weaken during the next 2-3 days as it merges with a low pressure area currently located to its west. After that time, the global models show an intensifying baroclinic low over the northeastern Atlantic, but it is unclear whether this low is the re-intensification of the former Kate or a new low that absorbs the remnants of Kate. The official forecast follows the previous forecast in using the latter scenario.
The initial motion is 060/23. The post-tropical cyclone should slow its forward motion during the next 24 hours or so during the merger with the low to the west, and some erratic motion is possible. Subsequently, the post-tropical cyclone should accelerate toward the east-northeast and northeast. The new forecast track is again slower than the previous forecast and is in best agreement with the consensus models.
This is the last advisory on this system issued by the National Hurricane Center. Additional information on this system can be found in High Seas Forecasts issued by the National Weather Service, under AWIPS header NFDHSFAT1, WMO header FZNT01 KWBC, and available on the Web at http://www.opc.ncep.noaa.gov/shtml/NFDHSFAT1.shtml.
Information provided by NHC.