Tropical Storm Karl 2022
Last Modified: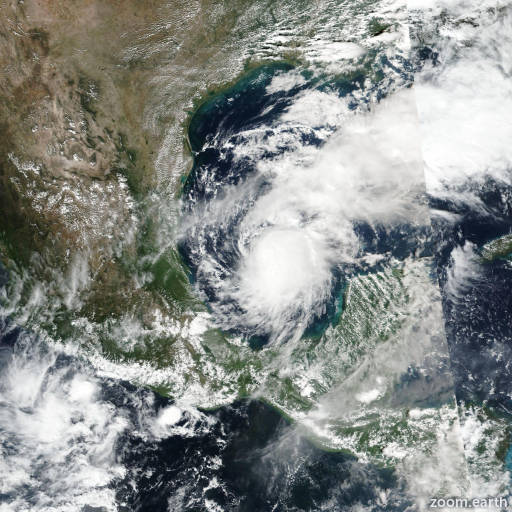 Karl
Satellite images, weather maps and tracks of Tropical Storm Karl 2022, October 10 - 15. Max wind speed 60mph.
Heavy rainfall associated with the remnants of Karl could produce instances of flash flooding, with mudslides in areas of higher terrain, across portions of Veracruz, Tabasco, Chiapas and Oaxaca states in Mexico.
Moderate to strong vertical wind shear and relatively low mid-level humidities have continued to take a toll on Karl. Satellite data and radar imagery from Mexico indicate that the cyclone has not produced any organized deep convection since around midday yesterday (October 14), and it is very unlikely any will return this morning (October 15). Therefore, Karl has become a remnant low and this will be the last NHC advisory on this system. The radar imagery has revealed a persistent area of showers and thunderstorms with heavy rainfall well south of Karl's center that appears to be related to upslope flow against the mountainous terrain of southern Mexico. Within this cluster of convection, a significant amount of lightning has been noted in the GOES Lightning Mapper (GLM) data overnight. Karl's remnants could still produce flash flooding and mudslides over portions of southern Mexico through this weekend.
The initial intensity has been reduced to 30 mph (25 knots), which is a blend of Dvorak T- and CI-numbers from TAFB and SAB. The global models indicate that the remnant low will continue to spin down today (October 15), and the official forecast calls for it to become a trough of low pressure by tonight when it moves inland over southern Mexico.
The low is currently moving southwestward at about 5 mph (4 knots), and a southwestward to west-southwestward motion should continue until dissipation occurs. This motion should bring the center of the cyclone along the southern coast of the Bay of Campeche this morning, and inland by later today.
This is the last NHC advisory on this system. For additional information on heavy rainfall and flooding, please see products issued by your national meteorological service.
Forecaster Brown. Information provided by the National Hurricane Center (NHC).