Tropical Storm Jimena 2021
Last Modified: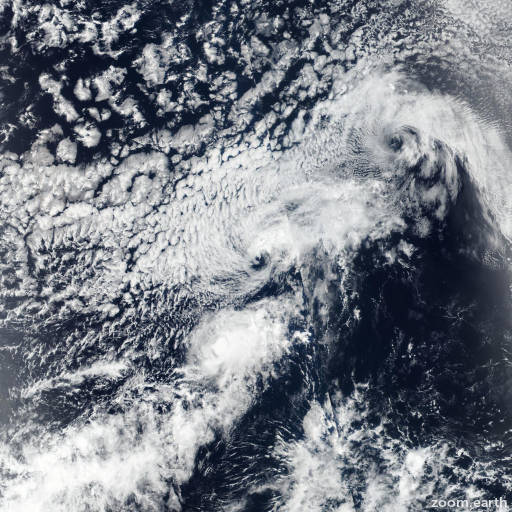 Jimena
Satellite images, weather maps and tracks of Tropical Storm Jimena 2021, July 25 - August 8. Max wind speed 40mph.
Deep convection near center of Jimena collapsed overnight, and Jimena consists of a low cloud swirl with shallow convection flaring along its northern and eastern flanks. Dvorak current intensity estimates varied from 1.5 at HFO to unclassifiable at SAB, while CIMSS ADT held onto a 2.0/30 knots. Jimena is moving over sub 24°C sea surface temperatures as it draws in dry air from the north, and westerly vertical wind shear of more than 15 mph (15 knots) is increasing. Given its current structure and the hostile environment ahead, Jimena has been downgraded to a post-tropical remnant low with an initial intensity of 35 mph (30 knots).
Post-Tropical Cyclone Jimena will continue to be steered toward the west-northwest (295 degrees) around 10 mph (7 knots) tonight by a deep subtropical ridge to the north. Under an environment of cool sea surface temperatures and continued westerly vertical wind shear, the increasingly shallow system will move toward the west this weekend until dissipation.
This is the last advisory issued by the Central Pacific Hurricane Center on Jimena. Additional information on this system can be found in the High Seas Forecasts issued by the National Weather Service in Honolulu under AWIPS header HFOHSFNP and WMO header FZPN40 PHFO.
Forecaster Wroe. Information provided by the Central Pacific Hurricane Center (CPHC).