Tropical Storm Jangmi (Enteng) 2020
Last Modified: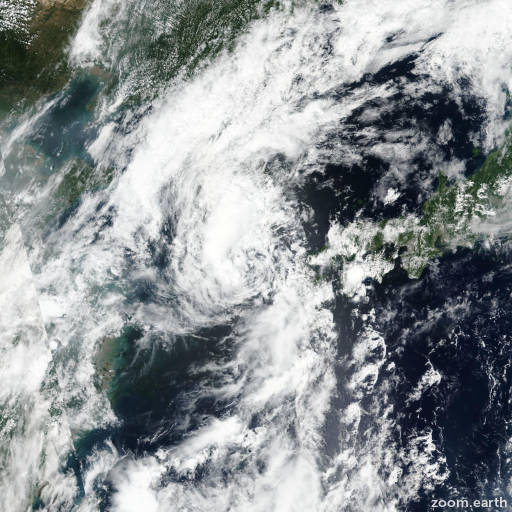 Jangmi (Enteng)
Satellite images, weather maps and tracks of Tropical Storm Jangmi 2020, August 8 - 11. Max wind speed 75km/h.
Tropical Storm (TS) Jangmi (Philippine name Enteng), located approximately 139 nautical miles northeast of Chinhae, South Korea, has tracked north-northeastward at 29 knots over the past six hours.
Animated enhanced infrared (EIR) satellite imagery depicts a partially exposed low level circulation center with associated convection displaced over the western semicircle.
The initial position is placed with fair confidence based on the LLCC present in the EIR loop and extrapolation through the low level circulation feature depicted in a 10/08:47 UTC AMSU 89GHz image.
The current intensity of 35 knots is placed with fair confidence based on multiagency Dvorak current intensity estimates of T1.5 (25 knots, RCTP), T2.0 (30 knots, PGTW) and T2.5 (35 knots, RJTD) as well as 30 knots winds present in a partial 10/12:59 UTC ASCAT-B pass.
The system has entered the baroclinic zone and begun extratropical transition.
As it continues to track along the cool (20-25°C) waters of the Sea of Japan, the storm motion will remain rapid as it merges with an approaching midlatitude trough.
Increasing poleward outflow aloft and favorable baroclinic interaction with the trough will allow TS 05W to nearly maintain intensity throughout the transition, despite increasing vertical wind shear and passage over much cooler water.
TS Jangmi will become fully embedded in the baroclinic zone and complete extratropical transition by hour 12.
Numerical model solutions remain in high agreement through the forecast period, lending high confidence to the JTWC forecast track.
This is the final warning on this system by JTWC.
The system will be closely monitored for signs of regeneration.
Maximum significant wave height at 10/12:00 UTC is 12 feet (3.7 meters).
Information provided by JTWC.