Tropical Cyclone Imogen 2021
Last Modified: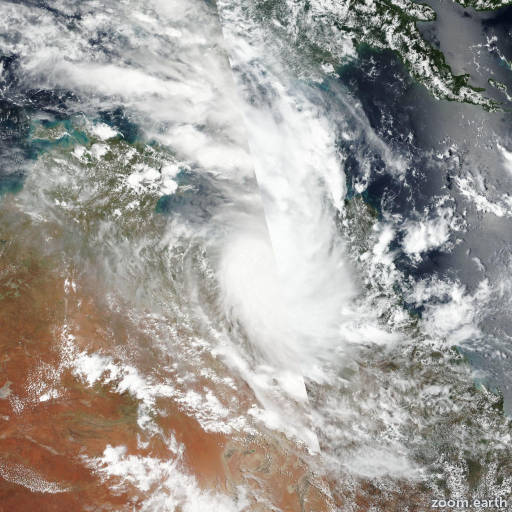 Imogen
Satellite images, weather maps and tracks of Category 1 Tropical Cyclone Imogen 2021, January 2 - 4. Max wind speed 85km/h.
Imogen is located 524 km (283 nautical miles) west of Cairns, Australia, and has tracked east-southeastward at 20 km/h (11 knots) over the past 6 hours.
Infrared satellite imagery shows strong flaring convection displaced to the southwest of the assessed low level circulation center. Animated radar data from ABOM indicates that Imogen made landfall near Karumba, Australia at 03/12:00 UTC, supporting the initial position with high confidence.
The initial intensity is set at 85 km/h (45 knots) with low confidence in light of the lack of any subjective or objective intensity estimates over land.
Over the next 24 hours the system will continue to track slowly inland while steadily weakening and is expected to fully dissipating as a tropical cyclone over the southern Cape York Peninsula in 24 hours.
Dynamic model guidance is in tight agreement, lending high confidence to the JTWC forecast track. This is the final warning on this system by JTWC.
The system will be closely monitored for signs of regeneration.
Maximum significant wave height at 03/12:00 UTC is 14 feet (4.3 meters).
Information provided by the Joint Typhoon Warning Center (JTWC).