Major Hurricane Ian 2022
Last Modified: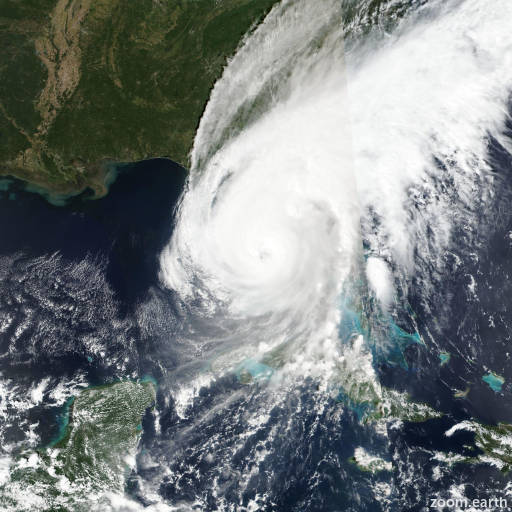 Ian
Satellite images, weather maps and tracks of Category 4 Major Hurricane Ian 2022, September 19 - October 2. Max wind speed 155mph.
Ongoing major to record river flooding will continue through next week across portions of central Florida. Limited flash, urban, and small stream flooding is possible across portions of the central Appalachians and the southern Mid-Atlantic this weekend.
Gusty winds are expected across portions of the central and southern Appalachians through this morning (October 1).
Ian's circulation continues to wind down, and marine observations off the coast of North Carolina and Virginia, as well as earlier ASCAT data, indicate that maximum winds in the southerly flow south of the warm front have dropped below gale force. The initial intensity is set at 35 mph (30 knots) for this advisory, with those winds occurring over the Atlantic waters. The bulk of the associated rainfall is located north and west of the occluded/warm front, stretching from the southern Appalachians northward across the Mid-Atlantic states.
Ian's center has turned north-northwestward and slowed down over central North Carolina, with an initial motion of 345/10 knots. The system is forecast to turn back to the north and slow down further later today (October 1), and global model fields indicate that the low center should dissipate over south-central Virginia by this evening. This is indicated in the new official forecast. A new frontal low may form on the triple point over the Delmarva Peninsula or adjacent Atlantic waters and scoot eastward later today or tonight.
Although seas 12 feet or greater continue over portions of the adjacent Atlantic waters, they are not indicated in this forecast package since they are so far east of Ian's center. Information on seas and high winds over marine areas can be found in High Seas Forecasts issued by the National Weather Service...under AWIPS header NFDHSFAT1 and WMO header FZNT01 KWBC.
This is the last advisory on Ian issued by the National Hurricane Center.
Forecaster Berg. Information provided by the National Hurricane Center (NHC).