Hurricane Henri 2021
Last Modified: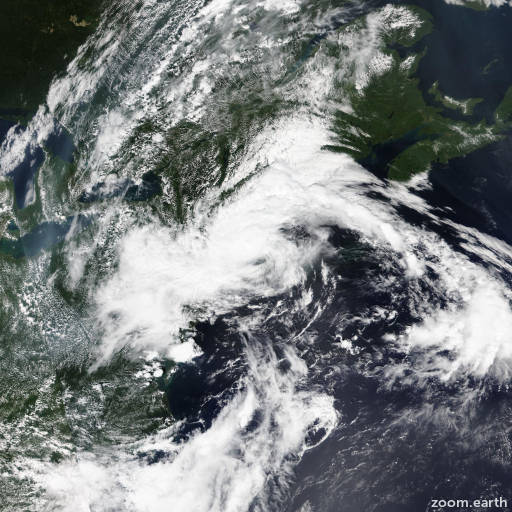 Henri
Satellite images, weather maps and tracks of Category 1 Hurricane Henri 2021, August 14 - 24. Max wind speed 75mph.
Heavy rainfall will continue to lead to considerable flash, urban, and small stream flooding, along with the potential for additional minor to isolated moderate river flooding over portions of Long Island, New England, eastern New York, New Jersey and northeast Pennsylvania.
Henri has continued to weaken over land and synoptic surface observations indicate that its maximum winds have decreased to near 30 mph (25 knots). A little more weakening is likely during the next 48 hours, and simulated satellite imagery from the global models indicate that the system will be post-tropical after its expected re-emergence into the Atlantic in 36 hours or so. Beyond 48 hours the dynamical guidance suggests that the system will lose its identity.
Satellite imagery and surface data indicate that the center is moving slowly west-northwestward, or 290/7 knots. Henri is interacting with another cyclonic circulation over the northeastern United States. As a result of this interaction, the tropical cyclone is expected to briefly come to a halt overnight, turn toward the east-northeast on Monday, and continue an east-northeastward motion into Tuesday. The official forecast track is similar to the dynamical model consensus, TVCN.
Although Henri's winds are weakening, the cyclone will still continue to be a prolific rain producer, resulting in significant flooding across southern New England and portions of the northern mid-Atlantic states for the next day or two.
This is the last advisory by the National Hurricane Center on Henri. Future information on this system can be found in Public Advisories issued by the Weather Prediction Center beginning at 5 AM EDT, under AWIPS header TCPAT3, WMO header WTNT33 KWNH, and on the web at http://www.wpc.ncep.noaa.gov.
Forecaster Pasch. Information provided by the National Hurricane Center (NHC).