Hurricane Hanna 2020
Last Modified: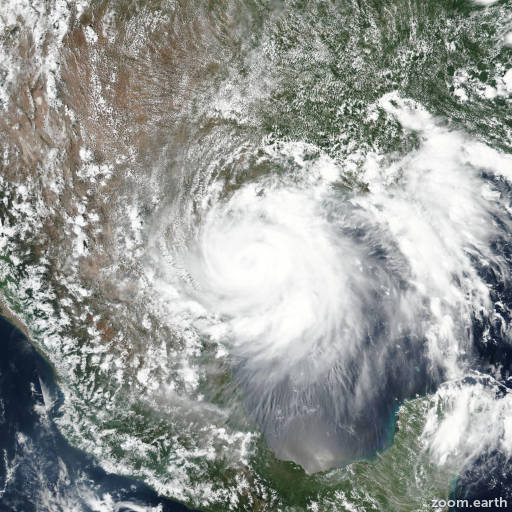 Hanna
Satellite images, weather maps and tracks of Category 1 Hurricane Hanna 2020, July 22 - 27. Max wind speed 90mph.
Heavy rainfall from Hanna has already produced numerous reports of flash flooding across south Texas. Additional heavy rainfall will continue to result in life-threatening flash flooding over south Texas and northern Mexico, and isolated minor river flooding in south Texas.
Surface observations along with radar and satellite imagery show that Hanna continues to weaken as it moves farther inland. There have been no recent observations of sustained tropical-storm-force winds, and Doppler velocities have continued to decrease. Based on these trends, the initial wind speed has been reduced to 30 knots. Hanna should continue to spin down while it moves over the high terrain of northeastern Mexico. The system is forecast to become a remnant low in 12-18 hours, and should dissipate over the mountains of Mexico by late Monday, if not sooner.
Hanna is moving west-southwestward or 245/8 knots. The cyclone should continue on this general heading and speed until dissipation occurs. The updated NHC track forecast is again similar to the previous advisory and is close to the dynamical model consensus.
This is the last NHC advisory on Hanna. Future information on this system can be found in Public Advisories issued by the Weather Prediction Center beginning at 10 PM CDT, under AWIPS header TCPAT3, WMO header WTNT33 KWNH, and on the web at http://www.wpc.ncep.noaa.gov.
Information provided by NHC.