Tropical Storm Guillermo 2021
Last Modified: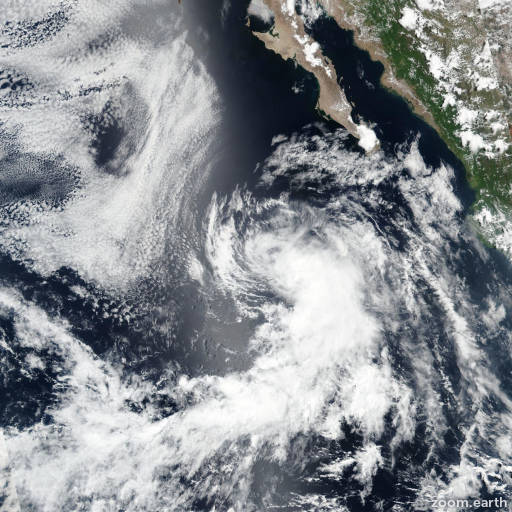 Guillermo
Satellite images, weather maps and tracks of Tropical Storm Guillermo 2021, July 16 - 21. Max wind speed 60mph.
Guillermo's circulation consists of a tight swirl of low-level clouds, and the earlier brief convective flare up dissipated shortly after the release of the previous advisory. Given that the system has been devoid of organized deep convection for most of the last 18 hours, the system is now considered a remnant low and this will be the last NHC advisory. The initial intensity remains 35 mph (30 knots) based on a recent ASCAT pass that showed an area of 25-30 knot winds north of the center.
The post-tropical cyclone will remain in an dry, stable airmass while moving over sea surface temperatures of 24-25°C, which should result in a gradual spin down of the circulation. Global model fields indicate that the low will open up into a trough within 48-60 hours, and that is indicated in the official forecast.
The remnant low is now moving a little south of due west, with an initial motion estimate of 265/15. The system is expected to move west-southwestward until dissipation under the influence of the expansive low-level ridge centered over the north-central Pacific. The new NHC track forecast is a little south of and faster than the previous one, trending toward the latest consensus aids.
Forecaster Brennan/Cangialosi. Information provided by the National Hurricane Center (NHC).