Tropical Cyclone Gina 2022
Last Modified: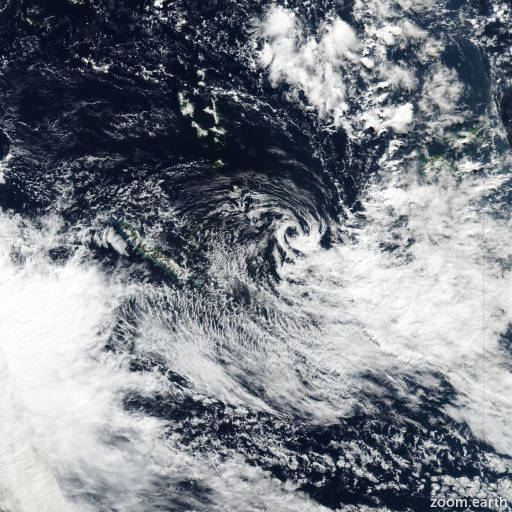 Gina
Satellite images, weather maps and tracks of Tropical Depression Gina 2022, May 16 - 22. Max wind speed 65km/h.
Gina is located 50 km northwest of Aneityum, Vanuatu, and has moved east-southeastward at 24 km/h (13 knots) over the past 6 hours.
Gina has continued to track farther east of the prior forecast track as well as model guidance, likely due to continuing convective activity south of the low-level circulation center (LLCC) that has apparently tugged the LLCC farther east than models anticipated.
Development continues to be inhibited by strong northwesterly wind shear of about 55 km/h (30 knots) which is continuing to confine convection entirely to the southern semicircle.
Within the next 24 hours, wind shear is forecast to increase to 85-95 km/h (45-50 knots), along with deep-layer dry air being advected over the circulation, resulting in a decrease in intensity to below warning criteria.
The track forecast remains somewhat problematic due to the significant deviation of the current motion east of previous model guidance. However, dynamical models insist that Gina will become fully decoupled from the convection imminently, which should result in a slight turn back toward the south and southwest as the orphaned LLCC begins to be steered more by the low-level easterly flow.
Forecast guidance has continued to initialize farther east and has come into better agreement on a south-southeastward track at 12 hours before turning southwestward in 24 hours. Thus the JTWC forecast track is placed close to the multi model consensus.
The intensity forecast remains unchanged by maintaining 65 km/h (35 knots) in 12 hours before downgrading below warning criteria in 24 hours.
Maximum significant wave height is 3.7 meters (12 feet).
Information provided by the Joint Typhoon Warning Center (JTWC).