Tropical Storm Fred 2021
Last Modified: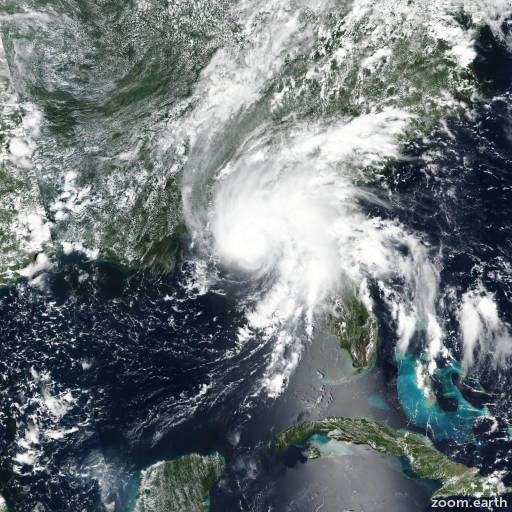 Fred
Satellite images, weather maps and tracks of Tropical Storm Fred 2021, August 7 - 20. Max wind speed 65mph.
Through Tuesday, heavy rainfall may lead to considerable flash, urban, small stream, and isolated river flooding impacts across portions of the Florida Panhandle, southeastern Alabama, and from western Georgia into the southern Appalachians. By the middle of the week, Fred or its remnants will lift northward and impact the central Appalachians and Mid-Atlantic. Landslides are possible across the mountains of North Carolina and Blue Ridge Escarpment on Tuesday.
Fred has moved farther inland and is now located near the border of southwestern Georgia and southeastern Alabama. Between 0400-06:00 UTC, Doppler radar data from Tallahassee, Florida, still showed 68-70 knots velocities between 9,000-10,000 ft associated with a solid band of convection in the northeastern quadrant. Using 50% of those values supported keeping Fred as a 35-knot tropical storm at 06:00 UTC. This intensity was also supported by 30-knot winds on the west side of the low-level circulation noted in surface observations. Since that time, however, the solid band of convection has become fragmented and the thunderstorm activity has broken up into more discrete cells. Satellite and radar imagery also indicate that the mid- and upper-level circulations have decoupled and sheared out to the north of the low-level circulation. As a result, Fred has been downgraded to a tropical depression at the 09:00 UTC advisory time. Weakening will continue through today (August 17) as Fred moves farther inland over Georgia and into the southern Appalachians, with Fred likely becoming a remnant low later tonight before merging with a frontal system over the northern Appalachians on Wednesday.
Fred has continued to move north-northeastward, or 015/12 knots. For the remainder of today, Fred should maintain a motion toward the north-northeast or northeast accompanied by a gradual increase forward speed owing to a very stable steering pattern between a deep-layer ridge to the east and a broad mid-tropospheric trough to the west. The new NHC track forecast is essentially just an update of the previous advisory track and lies near the middle of the tightly packed NHC model guidance suite.
Although Fred is weakening, the system is still expected to bring flooding rains to portions of the southeastern and eastern United States during the next couple of days.
This is the last advisory issued by the National Hurricane Center on Fred. Future information on this system can be found in Public Advisories issued by the Weather Prediction Center beginning at 11 AM ED, under AWIPS header TCPAT1, WMO header WTNT31 KWNH, and on the web at http://www.wpc.ncep.noaa.gov.
Forecaster Stewart. Information provided by the National Hurricane Center (NHC).