Tropical Cyclone Fili 2022
Last Modified: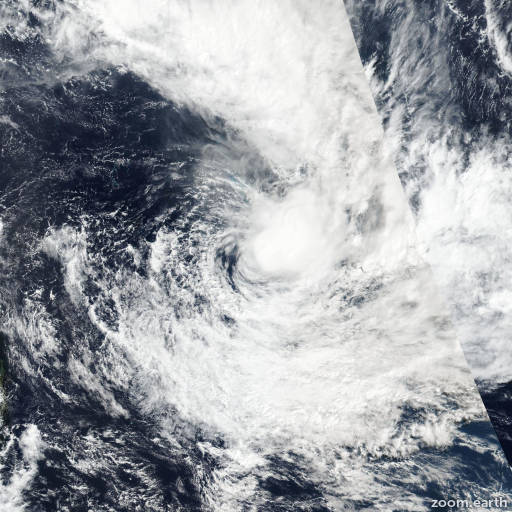 Fili
Satellite images, weather maps and tracks of Category 2 Tropical Cyclone Fili 2022, April 2 - 8. Max wind speed 100km/h.
Fili is located 320 km south-southwest of Noumea, New Caledonia, and has moved southward at 17 km/h (9 knots) over the past 6 hours.
Fili will continue to track southeastward along the southwestern side of the low to mid-level ridge to the east. The mid-level subtropical westerlies continue to exert significant shear on the system, as exhibited by the recent decapitation.
The system will slowly weaken as it continues tracking southeastward over the next 24 hours, but is forecast to remain at or above gale-force through the forecast period.
The system is already in the process of transitioning to a subtropical low and is expected to fully transition to a gale-force subtropical storm in 24 hours as it becomes embedded within the strong subtropical westerlies, and moves over progressively cooler waters.
Beyond the forecast period, the system will linger for a couple of days as a gale-force low, drifting to the east as a strong low-level high pressure system develops to the south.
Dynamic track guidance is in good agreement through the forecast period, lending high confidence to the JTWC forecast. After the forecast period however, the guidance diverges significantly as the storm motion becomes more erratic as it weakens and comes under the influence of the low level steering flow.
Intensity guidance is mixed, continuing the recent trend of the global models showing rapid weakening over the next 36 hours, while the mesoscale models hold onto a 75-85 km/h (40-45 knots) system over the next 5 days.
Overall confidence in the JTWC forecast is medium.
Maximum significant wave height is 5.8 meters (19 feet).
Information provided by the Joint Typhoon Warning Center (JTWC).