Tropical Cyclone Emnati 2022
Last Modified: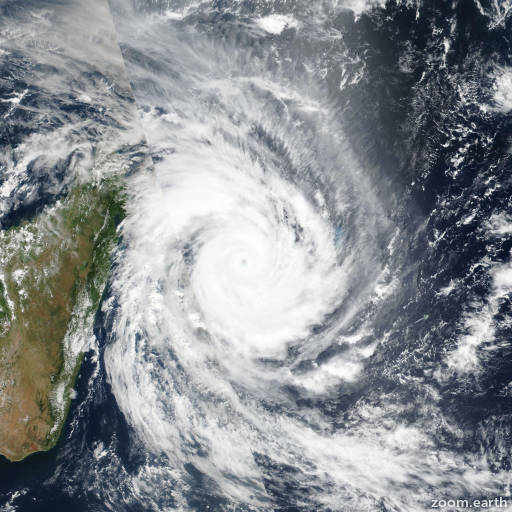 Emnati
Satellite images, weather maps and tracks of Intense Tropical Cyclone Emnati 2022, February 14 - 25. Max wind speed 215km/h.
Emnati is located 604 km south-southeast of Europa Island, and has moved southward at 33 km/h (18 knots) over the past 6 hours.
Emnati is forecast to continue tracking south to southeastward along the western edge of the deep subtropical ridge to the east through the forecast period.
After the end of the forecast period, the remaining subtropical low will likely turn poleward once more as it moves towards a weakness that develops in the subtropical ridge ahead of an approaching mid-latitude trough.
Overall, no significant change in the intensity is forecast through the forecast period, with the continued robust poleward outflow being offset by very low ocean heat content, decreasing sea surface temperatures, progressively increasing wind shear and more significant dry air entrainment.
The system will begin losing its tropical characteristics in 12 hours and is forecast to complete transition to a strong gale-force subtropical low in 36 hours.
Deterministic and ensemble track guidance is in tight agreement on the forecast track, with very little spread through the period of the forecast, lending high confidence to the JTWC track.
Intensity guidance is mixed, with the HWRF and COAMPS-TC suggesting some minor intensification to about 95 km/h (50 knots) in 24 hours, while the remainder of the guidance shows steady or weakening intensity from today.
The JTWC forecast lies slightly below the intensity consensus mean with high confidence.
Maximum significant wave height is 5.5 meters (18 feet).
Information provided by the Joint Typhoon Warning Center (JTWC).