Tropical Cyclone Eloise 2021
Last Modified: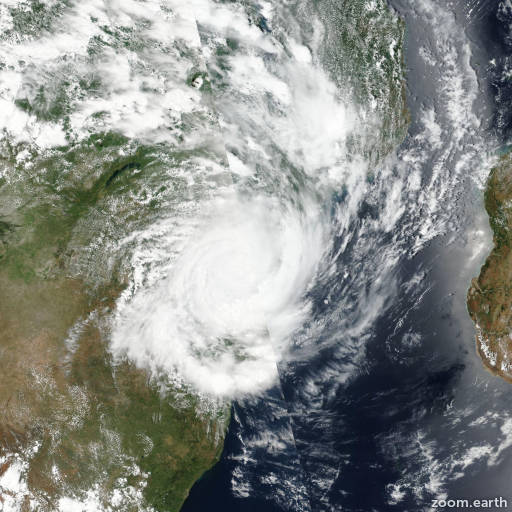 Eloise
Satellite images, weather maps and tracks of Tropical Cyclone Eloise 2021, January 11 - 24. Max wind speed 165km/h.
Eloise is located 672 km (363 nautical miles) west-northwest of Europa Island, and has tracked west-southwestward at 17 km/h (9 knots) over the past 6 hours.
Satellite imagery reveals spiral banding wrapping into a defined low level circulation center (LLCC). The system had an eye as it made landfall south of Beira; however, the eye deteriorated as the circulation tracked inland.
Based on this imagery and extrapolation of a discrete microwave eye feature in a SSMIS microwave image, there is high confidence in the initial position.
Eloise is expected to track west-southwestward for the remainder of the forecast as it moves along the northwestern periphery of a subtropical ridge entrenched to the southeast.
Despite robust equatorward outflow and low vertical wind shear, interaction with the underlying terrain and dry air entrainment will rapidly weaken the system as it continues inland with full dissipation expected in 24 hours.
Forecast models are in tight agreement throughout the forecast period with a maximum spread of 32 nautical miles. Therefore, there is high confidence in the JTWC forecast track which lies near the multi-model consensus.
This is the final warning on this system by JTWC. The system will be closely monitored for signs of regeneration.
Information provided by the Joint Typhoon Warning Center (JTWC).