Hurricane Earl 2022
Last Modified: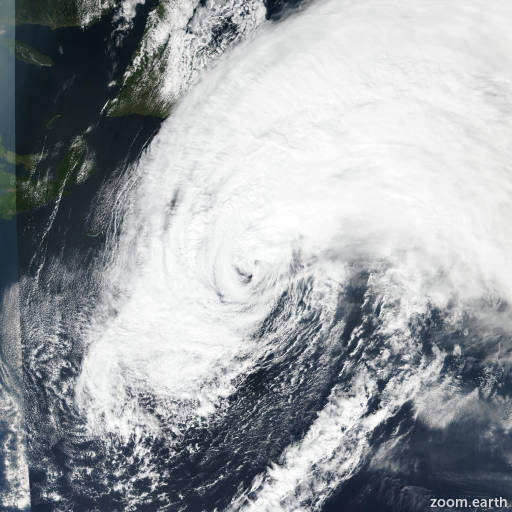 Earl
Satellite images, weather maps and tracks of Category 2 Hurricane Earl 2022, August 27 - September 15. Max wind speed 105mph.
Strong winds are expected over the Avalon Peninsula of Newfoundland this afternoon (September 10) through Sunday.
Large swells generated by Earl will affect Bermuda, portions of the U.S. East Coast, and Nova Scotia and Newfoundland during the next several days. These swells are likely to cause life-threatening surf and rip current conditions. Please consult products from your local weather office.
Satellite imagery shows that Earl has completed extratropical transition, with well-developed frontal features and a central core that is void of deep convection. While recent scatterometer overpasses did not sample the strongest winds, it showed that Earl remains both large and powerful as an extratropical low. So, the initial intensity is set at 85 mph (75 knots) at this time. The global models are in good agreement that the system should gradually weaken during the forecast period, with the maximum winds dropping below hurricane force between 12-24 hours. The intensity forecast follows the trend of the intensity guidance and has some minor adjustments from the previous forecast.
Earl has slowed its forward speed considerably since the last advisory, with the motion now 025/9 knots. A slow movement toward the northeast is expected during the next 36 hours as the system merges with a mid-latitude trough. After that, the post-tropical cyclone is expected to move eastward through 96 hours, followed by an east-northeastward motion. The track guidance has shifted southward between 36-72 hours, and the new forecast track is adjusted southward during that time as well. The forecast slow motion, along with Earl's large wind field, will cause strong winds over the Avalon Peninsula of Newfoundland from this afternoon through Sunday. For additional information on impacts in Newfoundland, please monitor forecasts and warnings from Environment Canada.
The is the last advisory issued by the National Hurricane Center on Earl. Additional information on this system can be found in High Seas Forecasts issued by the National Weather Service, under AWIPS header NFDHSFAT1, WMO header FZNT01 KWBC, and online at ocean.weather.gov/shtml/NFDHSFAT1.php
Forecaster Beven. Information provided by the National Hurricane Center (NHC).