Tropical Storm Dumako 2022
Last Modified: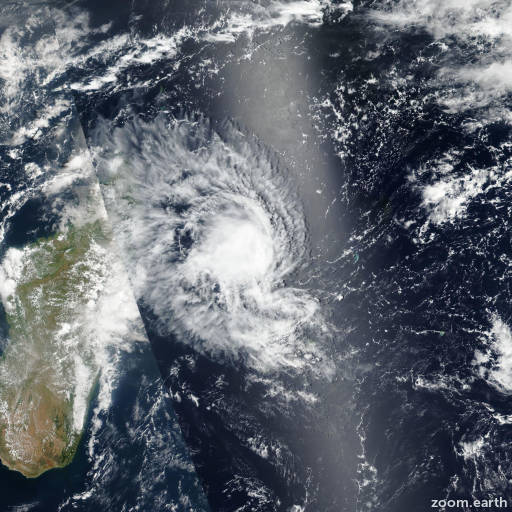 Dumako
Satellite images, weather maps and tracks of Moderate Tropical Storm Dumako 2022, February 10 - 16. Max wind speed 95km/h.
Dumako is located 378 km northeast of Antananarivo, Madagascar, and has moved westward at 26 km/h (14 knots) over the past 6 hours.
Dumako will continue tracking westward along the northern edge of the subtropical ridge through the forecast period. The system is expected to make landfall at nosy boraha island within the next few hours then track inland across the northern portion of Madagascar.
Due to the short time remaining before landfall and the overall marginal environmental conditions, little to no intensification is expected prior to the system moving over land.
Once ashore the system will gradually but steadily weaken as it moves over the mountainous terrain and ultimately dissipate below warning threshold prior to reaching the west coast of Madagascar.
The remnant circulation is expected to move out over the northern Mozambique Channel in around 36 hours. While the sea surface temperatures are very warm in the channel, the presence of mid-level dry air and moderate to high easterly shear will preclude redevelopment.
Deterministic track guidance is in very good agreement, with minimal spread in the model trackers, through the forecast period, lending high confidence to the JTWC forecast track.
Intensity guidance is for the most part in agreement. With the exception of the NAVGEM Decay-SHIPS, all available guidance shows rapid weakening over land to 45-55 km/h (25-30 knots), and remnant circulation holding on at 55 km/h (30 knots) as it crosses the channel.
Maximum significant wave height is 4.3 meters (14 feet).
Information provided by the Joint Typhoon Warning Center (JTWC).