Tropical Cyclone Dovi 2022
Last Modified: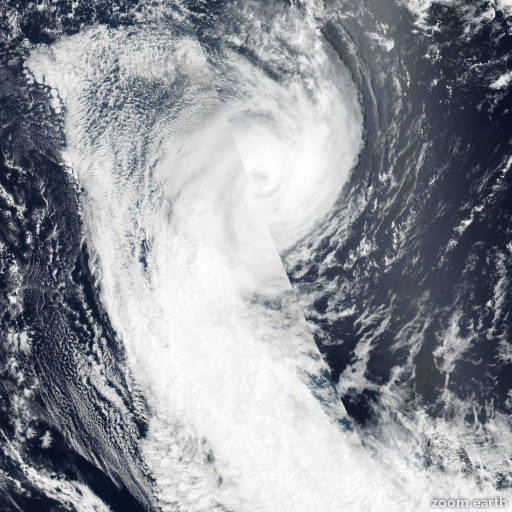 Dovi
Satellite images, weather maps and tracks of Category 3 Tropical Cyclone Dovi 2022, February 6 - 12. Max wind speed 165km/h.
Dovi is located 1200 km northwest of Auckland, New Zealand, and has moved southward at 39 km/h (21 knots) over the past 6 hours.
Dovi is forecast to continue its rapid decline from a warm core tropical cyclone to a cold core extratropical low in 24 hours. Over the next twelve hours, Dovi will begin to recurve south-southeastward as its interaction with the upper level midlatitude trough increases and deep convection shears poleward and decouples from the LLCC.
Marginal sea surface temperatures (23-25°C) and moderate-high wind shear will be partially offset by vigorous poleward outflow as the system continues to decrease in intensity.
A significant amount of dry air will continue to entrain throughout all levels of the system further deteriorating its tropical characteristics.
After 12 hours, Dovi will recurve southeastward as it encounters stronger wind shear (35-40 knots) and lower sea surface temperatures (21-23°C).
In 24 hours, the system will complete ETT as it becomes embedded in the baroclinic zone near the jet and will gain clear frontal characteristics.
After completing ETT, the system is expected to remain a storm-force low as it tracks over North Island, New Zealand. Forecast guidance remains in tight agreement with a 104 km spread in solutions at 24 hours lending high confidence to the JTWC track forecast.
The 11/06:00 UTC ECMWF ensemble (EPS) strike probability output supports the JTWC track philosophy with a high probability of landfall occurring just south of Auckland.
JTWC intensity guidance is in agreement on the steady weakening trend and bolsters the JTWC intensity forecast with medium confidence.
Maximum significant wave height is 7.9 meters (26 feet).
Information provided by the Joint Typhoon Warning Center (JTWC).