Tropical Storm Cristobal 2020
Last Modified: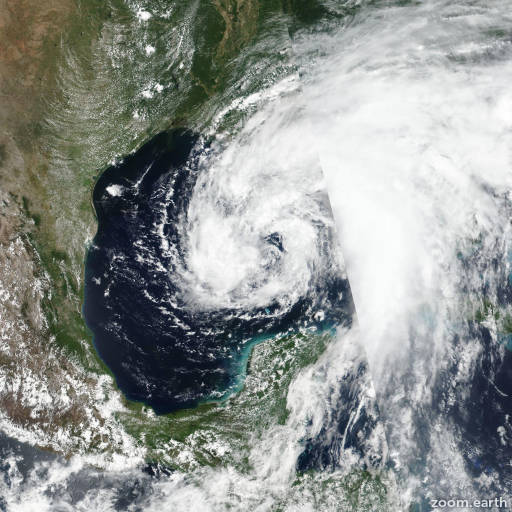 Cristobal
Satellite images, weather maps and tracks of Tropical Storm Cristobal 2020, June 1 - 12. Max wind speed 60mph.
Heavy rain associated with Cristobal will continue to push inland across the central Gulf coast and into the Lower Mississippi Valley today (June 8), then up the Mid and Upper Mississippi Valley tonight through Tuesday night. Flash flooding, and new and renewed isolated significant river flooding is possible, especially where heavier rainfall occurs over portions of the Gulf Coast through the Mississippi Valley.
Cristobal continues to move further inland. Surface observations along with radar and satellite images indicate that the center is located over northeastern Louisiana. The minimum pressure is estimated to be 995 mb, and the initial wind speed is held at 30 knots, based on several observations of 25-30 knots along and offshore of the Mississippi and Alabama coasts. The depression is still producing a large area of showers and thunderstorms generally to the north and east of the center.
The depression is moving faster to the northwest than before, and the latest initial motion estimate is 325/13 knots. The cyclone is expected to turn to the north by tonight and then accelerate north-northeastward late Tuesday and Wednesday as it moves in the flow between a mid-level ridge to its east and a trough to its west. This track should take Cristobal, and its extratropical remnants, across the Midwest and over central and eastern Canada during the next few days.
Some weakening is expected during the next day or so as Cristobal continues to track inland. However, slight re-intensification as an extratropical cyclone is expected Tuesday night and Wednesday as Cristobal becomes involved with a mid-latitude system over the Upper Mississippi Valley. The combination of Cristobal and the mid-latitude cyclone will likely cause gusty winds over portions of the Midwest and Great Lakes regions around the middle of the week.
This is the last NHC advisory on Cristobal. Future advisories will be issued by the Weather Prediction Center.
Information provided by NHC.