Typhoon Conson (Jolina) 2021
Last Modified: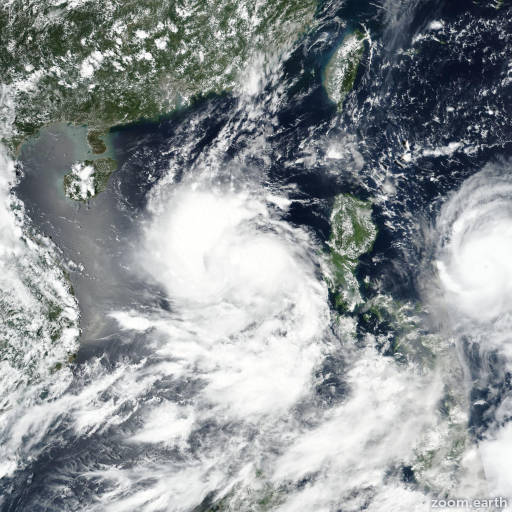 Conson (Jolina)
Satellite images, weather maps and tracks of Typhoon Conson 2021, September 5 - 13. Max wind speed 120km/h.
Conson (Philippine name Jolina) is located 124 km southeast of Da Nang, Vietnam, and has moved northward at 2 km/h (1 knot) over the past 6 hours.
Conson remains very firmly in a static position just offshore of Quang Ngai, Vietnam in a very weak steering environment between a trio of competing ridges.
Over the next 12 hours, the eastern ridge is forecast to build in from the east and assume the dominant steering position. This will finally push Conson to the northwest, ultimately making landfall near Da Nang within the next 24 hours.
The system is expected to continue to weaken to 45 km/h (25 knots) in the next 12 hours, and ultimately dissipate over the rugged terrain west of Hue in 36 hours.
Track guidance remains in overall agreement that the system will start moving northwest over the next 12 hours. However the GFS and HWRF continue to want to hold the track offshore while the remainder of the consensus members support the JTWC forecast track.
While guidance is generally in agreement there is low confidence in the track forecast due to the uncertainty surrounding the timing of the push to the northwest.
Intensity guidance is in good agreement on the scenario, but once again the uncertainty of whether the ultimate track moves onshore or offshore lends only medium confidence in the intensity forecast.
Maximum significant wave height is 4.6 meters (15 feet).
Information provided by the Joint Typhoon Warning Center (JTWC).