Tropical Storm Colin 2022
Last Modified: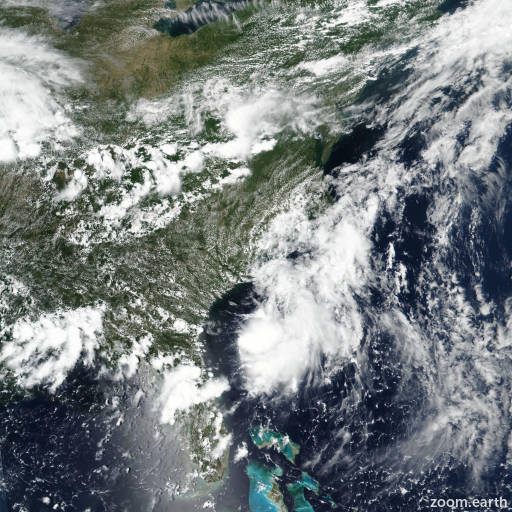 Colin
Satellite images, weather maps and tracks of Tropical Storm Colin 2022, June 30 - July 3. Max wind speed 40mph.
Rough surf and rip currents are likely to continue along the North Carolina coast through this evening.
Scattered showers and thunderstorms may impact coastal North Carolina through this morning (July 3). Most areas will see less than an inch of additional rainfall.
Colin no longer has a discernible center or closed circulation in satellite imagery or surface observations, and it has therefore dissipated over eastern North Carolina. The remnants are generating a line of convection mainly offshore the North Carolina coast, where buoy reports and earlier ASCAT data indicate that maximum winds are now down to 30 mph (25 knots).
Colin's remnants are moving a little faster toward the northeast (055/9 knots) and are expected to turn east-northeastward and accelerate soon, crossing the Outer Banks and emerging over the Atlantic waters this afternoon. The remnants are then expected to merge with a frontal system over the western Atlantic in about 24 hours.
This is the last advisory on Colin. For additional information, please see products issued by the local National Weather Service forecast offices in Morehead City and Wilmington, North Carolina. Also refer to High Seas Forecasts issued by the National Weather Service, under AWIPS header NFDHSFAT1, WMO header FZNT01 KWBC, and online at https://ocean.weather.gov/shtml/NFDHSFAT1.php
Forecaster Berg. Information provided by the National Hurricane Center (NHC).