Tropical Cyclone Cody 2022
Last Modified: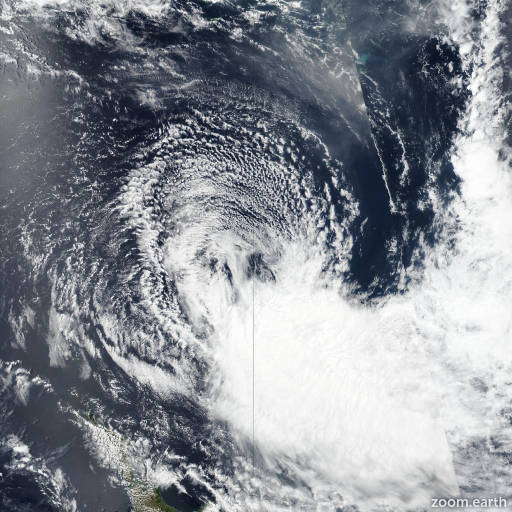 Cody
Satellite images, weather maps and tracks of Category 1 Tropical Cyclone Cody 2022, January 6 - 15. Max wind speed 95km/h.
Cody is located 989 km south of Suva, Fiji, and has moved southeastward at 13 km/h (7 knots) over the past 6 hours.
Infrared imagery shows a ragged, disorganized low-level circulation center (LLCC) with sheared convection displaced to the south. The initial position is assessed with medium confidence based on the an extrapolation of an ASCAT-B pass, placed in the southeast portion of the elongated circulation.
The initial intensity is likewise based on the same scatterometer pass, which showed an extensive swath of 95 km/h winds (50 knots) extending along the southwestern side of the circulation.
Automated and subjective phase classification analyses confirm that Cody has transitioned to a storm force subtropical low. The system will continue to track slowly south-southeastward towards the North Island of New Zealand through the forecast period.
While the forecast only extends to 12 hours, the system will continue southward as a strong gale to storm-force subtropical low pressure system with an expansive gale-force wind field.
This is the final warning on this system by JTWC. The system will be closely monitored for signs of regeneration.
Maximum significant wave height is 6.7 meters (22 feet).
Information provided by the Joint Typhoon Warning Center (JTWC).